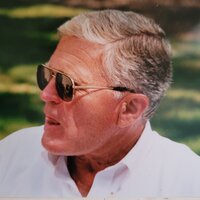 Thomas Lawrence McLane
Thomas Lawrence McLane died peacefully on Friday September 10, 2021. Near him were his children, Beth, Jen, and Brad; and his granddaughter Haley. He lived an active and engaged life until just after his 89th birthday, then slowly declined due to a number of underlying conditions. A memorial service will be held at 11:30 AM Friday September 24, 2021 at St. Mark's Church in New Canaan, CT with an outdoor reception immediately following.
Tom was born May 3, 1932 in New York City to William Lawrence McLane and Elizabeth Fish Benjamin McLane. They soon migrated to New Canaan (home of his grand and great grandparents). He grew up on Silvermine Rd with siblings Betsy, Jamie, and Greer. He attended the Little Red School House, New Canaan Country School, St. George's (Newport, RI), then Warwick College (UK) for a PG year while deferring admission to Yale. He was very involved at Yale with rugby, St. Anthony's, college hockey, the Glee Club, and his beloved Whiffenpoofs. He graduated in 1954 concurrent with being commissioned a 2nd lieutenant in the Air Force via the ROTC program (later honorably discharged as a Captain from the reserves).
Stationed at Mitchel Air Field on Long Island was fortuitous because he soon met Judith Hopkins Anthony from Locust Valley, NY. They married June 20, 1956 and were soon joined by twins Beth and Brad (born on the base). Joining the reserves, Tom's job hunt led to West Virginia Pulp & Paper Company (now WestRock). For the next 20 years he had an ascendant career in increasingly important roles. Along the way, Tim joined the family (1960), followed by Jen (1965). There were stops in Evanston, IL, Rowayton and New Britain, CT; then a return to New Canaan in 1964 followed by a 1967 move where the family resided for the ensuing 54 years. Somehow, he fit in Harvard's AMP (1973).
Tom's career took a significant turn in 1978 when his former Whiff member Russ Reynolds suggested he take a run at executive search. It worked! He had a 20-year career with Russell Reynolds Associates. Upon "retirement" he joined Russ at Directorship Group (later RSR Partners) where he was Vice Chair until 2012 when he really retired. He was joined there by his son, Brad, in 2011. Following retirement he launched a new career as the primary caregiver for his wife Judy who passed away in 2018.
Anchoring to family was always important to Tom and Judy. This took shape in annual summer gatherings in Weekapaug, RI and periodic European sojourns that included Tuscany and Provence with the entire family (and assorted friends).
Tom's roots grew deep in New Canaan over the past 50+ years. He served on the town Finance Committee and helped to launch the New Canaan Inn later serving as vice president. He was past president of the New Canaan Community Foundations and vice president of the United Way. He was a former trustee of New Canaan Country School. He loved the NC Men's Club and his book club. He was highly engaged with St. Mark's Church and enjoyed his friends at CCNC (where he was a former governor). He enjoyed sailing his 38-foot sloop, Chasseur, out of Norwalk Yacht Club (also as a former governor) for many years. He also served for over 40 years on the Seaman's Church Institute's Board of Trustees and was a director of Stamford, CT's World Affairs Forum. Tom also continued a multi-generational McLane relationship with Yale through alumni giving, class officer roles, and performing with the 1954 Whiffs.
He leaves a family and a community that loved, respected, and deeply appreciated him. Tom is pre-deceased by his sister Betsy McKinney (Cincinnati, OH) and son Tim McLane (Milford, CT). He is survived by his two siblings Jamie McLane (Bryn Mawr, PA; Meg) and Greer Hopkins (San Francisco, CA; Thayer), his children Brad McLane and wife Dede of Winnetka, IL, and two daughters: Elizabeth Stocker-McLane of Zurich, Switzerland and Jennifer McLane-Hinchliffe of Pegram, TN. He is also survived by his seven grandchildren: Christopher Stocker; Emily, Connor, and Elizabeth McLane; Haley Harvey (McLane) and husband Derek Harvey; and Lane Hinchliffe, and Maddy Prue (Hinchliffe) and husband Kolden Prue. His many nieces and nephews will also dearly miss him.
In lieu of flowers please consider a donation to the New Canaan Community Foundation or the Visiting Nurse & Hospice of Fairfield County (to whom his family is deeply indebted for their loving guidance during hospice).
A Memorial Service will be held at St. Marks church in New Canaan on Friday, September 24, 2021 at 11:30AM. A live stream link will follow.
His was a life well lived.