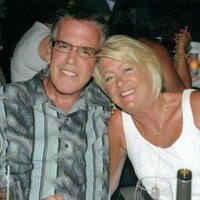 Lynne Ann Lynch
Lynne Ann Lynch, 60, of Trumbull, CT, passed away peacefully at home on September 2, 2021. She was born in Stamford, CT to the late Ivan Boyd and Patricia Macaluso. Lynne was the beloved wife of the late Grant Lynch of Trumbull, CT.
Lynne loved spending time with her nieces and nephew and her family members. She was an avid gardener who had a green thumb for both indoor and outdoor plants and herbs. She loved all animals and over the years had many cats and loved her current kitty Precious which was a gift from her late husband Grant. Lynne always enjoyed having a good lobster and steak dinner and was known for her gourmet cooking for both family and friends, especially during the holidays. Lynne was a long-time sports fan who loved the Mets baseball team and the NY Giants and enjoyed watching and going to NASCAR races. She loved all birds and always kept them and her humming birds well fed throughout the year. She loved traveling, going on cruises and enjoyed the Cape Cod beaches and New Hampshire lakes. She was always ready for another adventure. She was an avid supporter of the ALS Foundation participating in many walks and fund-raising events.
Lynne is survived by her loving mother Patricia Macaluso of Ansonia, brother Richard Boyd Sr and his children, Shannon Boyd and Richard "Wally" Boyd Jr, brother William Boyd, sister Susan Boyd Barati, her husband Andrew and their children, Danielle Barati and Madalyn Barati.
She is also survived by Grant's brother Douglas Lynch and his wife Kathleen and their children, MaryCatherine Lynch and Olivia Lynch as well as many aunts, uncles and cousins.
Services to be private
In lieu of flowers please donate to the ALS Association of Connecticut