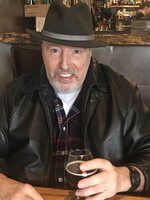 Michael G. Horaitis
Michael G. Horaitis, 68, of Wilton Ct, passed away in grace on September 4, 2021 after triumphing over Parkinson's Disease for 35 years. Michael was born in Canton, OH to Constantine and Adrian Horaitis on September 25, 1952.
Michael is survived by his beloved wife Angelica (Polito) Horaitis, devoted daughter Ariana Horaitis (husband Nicola Bernardini de Pace), loving brother Nicholas Horaitis (wife Nicki) and sister Maria Horaitis DiGiacomo (husband Anthony), in laws Jeff and Nicolette Manuel, and nieces Haley Wank (husband Chris), Andrea Horaitis, Marisa Manuel, Aris and Marissa DiGiacomo.
Michael was a Superman, taking on every challenge and opportunity with wit, humor and strength. Although impacted by Parkinson's at a relatively early age, Michael lived life to its fullest, traveling with his family all over the world, attending all of his daughter's Lacrosse matches and school activities, while still making time to enjoy his extended family and long-time friendships.
Early in life, it was obvious Michael was a natural athlete, succeeding in basketball and football during his formative high school and college years; and then later in life achieving a black belt in Martial Arts. His competitive spirit led him into his professional life where Michael was a successful sales executive with IBM for over 30 years. Whatever Michael chose to do, he pursued his interest with vigor and determination.
In other words, Michael never allowed Parkinson's Disease to hold him back, rather he lived life true to the words he cherished by Winston Churchill, "Never give in. Never give in. Never, never, never, never-in nothing, great or small, large or petty, never give in, except to the convictions of honour and good sense. Never yield to force. Never yield to the apparently overwhelming might of the enemy."
Our family would like to thank his loyal and steadfast CT friends, including George and Debra Van; and Dr. Douglas Damassa, whose involvement in Michael's life allowed him to live a better life. We also want to thank all of Michael's caregivers, particularly Jonas and Mia, who cared for Michael so lovingly.
We will celebrate Michaels's life on Friday September 10, 2021 at 11:00 am at Church of the Archangels, 1527 Bedford St, Stamford, CT 06905. There will be no wake at the funeral home, however a viewing will be held from 10:00 am – 11:00 am at the church before the service. Details for the service arrangements can be viewed at Hoyt Funeral Home website (www.hoytfuneralhome.com)
In lieu of flowers, Donations can be made in Michael's tribute to the Michael J Fox Foundation (https://tribute.michaeljfox.org/tribute-page.php?id=2073&np=true) or The Church of the Archangels (https://archangels.ccbchurch.com/goto/giving).
There will be live streaming of the service starting at 11:00 AM at (https:// www.facebook.com/archangelsGOC)