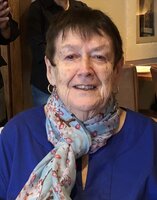 Rachel Violette Dubay
Rachel Violette Dubay of New Canaan, CT died peacefully on September 2, 2021 at Norwalk Hospital after a short illness. Rachel was born on April 15, 1936 in Van Buren, Maine to the late Calixte and Ernestine Cote Violette. She is predeceased by her husband Robert Eugene Dubay a lifelong resident of New Canaan, CT.
Rachel relocated to Norwalk, CT from Maine where she met Bob, they were married on June 30, 1956. They settled in New Canaan where they raised their family.
Rachel was employed in the cafeteria at New Canaan High School for 15 years. She then was employed at Data Switch formerly T-Bar as an Associate Buyer until her retirement in 1997.
She was an active member of Saint Aloysius Church in New Canaan, CT. She had many hobbies and interests. She was an expert seamstress and knitter making many treasured keepsakes for her family over the years. In her later years she enjoyed many activities offered at the School House Apartment sponsored by the Volunteer Leagues within the community. She loved playing Bingo, Cards and spending time with the youth of New Canaan that came to visit. One of her greatest joys was to travel with her family. She belonged to the Violette Association and traveled to France on a tour of her family heritage with her sister Irene. It was a trip of a lifetime for her to meet her distant relatives. It was one of many trips she shared with her sisters Irene and Norma over the years.
Rachel is survived by her children Thomas Dubay of New Canaan, Denise DiFulvio (John) of New Canaan and David Dubay (Paula) of Norwalk, CT. She is also survived by her three grandchildren, Adam DiFulvio of Hartford CT, Craig DiFulvio (Jessica) of North Haven, CT and Rachel Lott (Michael) of New Canaan, CT.
Rachel was predeceased by 13 of her siblings. She is survived by her sister Norma Gonzalez of Buda, Texas as well as an extended family of nieces and nephews.
Funeral services will be celebrated at Saint Aloysius Church in New Canaan, CT. on Tuesday, September 7, 2021 at 10:00am
Burial will take place at Lakeview Cemetery in New Canaan,CT.
Hoyt Funeral Home will be handling the arrangements.
Memorial donations may be made to the New Canaan Volunteer Ambulance and Norwalk Hospital Foundation.
The Family wishes to extend their gratitude to the New Canaan Volunteer Ambulance, Norwalk Hospital and The Visiting Nurse and Hospice.