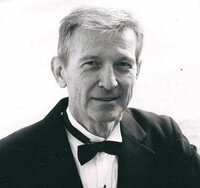 Arthur Warren Smith, III
Arthur Warren Smith III of Darien, CT, formerly of Sarasota, FL, Stamford, CT, Ansonia, CT, Bronx, NY, Tyler, TX, died peacefully surrounded by his wife and beloved daughters on Thursday, August 26, 2021 at his home in Darien, CT. He was born December 16, 1938 in Tyler, TX, to proud parents Viora Reel Smith and Arthur Warren Smith II (formerly of Lichfield, England). His mother moved with Arthur to Bronx, NY after the sudden passing of his father in a tragic explosion in 1941. An exceptionally gifted child, Arthur was accepted to the St. Thomas Boys Choir School and sung in the choir while attaining perfect grades while his mother worked as a seamstress. He attended the elite Bronx School of Science from 1951 to 1955 and graduated before he turned 17. In his desire to see the world, Arthur joined the U.S. Navy (with signature from his mother for parental approval to join the U.S. Navy Kiddie Cruise because he was younger than 18) in February 1956. At the advice of his neighbor in the Bronx apartment building (he called him 'Uncle Don' although not an uncle), Arthur asked to be assigned in 'Electronics' thereby beginning his long successful career as an engineer. Among his adventures in the Navy, Arthur survived the Lebanon Crisis in 1958 on the USS Saratoga. He was Honorably Discharged in 1958 at age 20.
Arthur married his longtime girlfriend Eleanor Mellett in September 1960. Arthur worked at Reflectone in Stamford, CT so he and Eleanor moved to Pacific Street in Bridgeport, CT. First daughter Laura was born. Arthur and family returned to the Bronx and second daughter Wanda was born. Arthur returned to Reflectone in Stamford and bought his first home in Ansonia, CT, moved his growing family, and third daughter Lenore then fourth daughter Maryann were born. It was at this time, Arthur started his part-time studies for Electrical Engineering at the Bridgeport Engineering Institute, graduating with High High Honors (BEI created High High Honors because Arthur's grades exceeded 100% for his time at BEI). With his continued growing family, Arthur moved his family to a larger house on Dempsey Court in Ansonia where fifth daughter Gail was born. Arthur was working at Oriel Corporation also in Stamford, CT. Arthur and Eleanor and five daughters lived on Dempsey Court until divorced in 1979.
Arthur eventually returned to Stamford while working at Reflectone. Arthur met Nancy Hendrix in 1980. Arthur and Nancy moved to Tampa, FL in 1989 and married in 1998 when Arthur was assigned to a subsidiary of British Airways in England for one year. Upon completion of this assignment, they returned to the U.S. and settled in Sarasota, FL until their move to The Residence at Sellecks Woods, Darien, CT in June 2020. which was his home until his death.
Arthur is survived by his wife and partner of 41 years Nancy Hendrix; his five daughters Laura Smith Cupo of Stamford, CT (husband Albert and sons Alessandro and Christopher), Wanda Smith Forlivio of Darien, CT (husband John and children Francesca and Thomas Lipp, John and Lucas ), Lenore Smith Crosson of Suffield, CT (husband John and daughters Olivia and Sophia), Maryann Smith Mahlen of Orland Park, IL (husband Brett and daughter Collette), and Gail Smith of Canton, CT (children Noah, Alison, Julia, and Ethan); and his two stepsons Mark Hendrix of Bellville, TX (wife Leslie, children David and John) and Keith Hendrix of Bristol, Rhode Island (wife Ellen, children Douglas, William and Katherine); several dear cousins in Tyler, Texas and friends in Sarasota, FL, as well as at The Residence at Selleck's Woods in Darien. Arthur was predeceased by his parents.
Calling Hours will be held on Sunday, August 29, 2021 from 2pm to 4pm at Hoyt Funeral Home, 199 Main Street, New Canaan, CT.
In lieu of flowers, Arthur's family would appreciate contributions to be made to the Boys Club of New York Donate Now – The Boys' Club of New York (bcny.org) in honor of his father's longtime commitment to this organization and making a difference in young men's lives when they need it most.