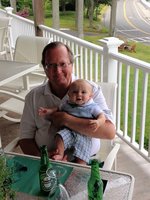 Martin F. Hayes IV
Martin F. Hayes IV, 72, of Pound Ridge, NY, passed away on Tuesday, August 10, 2021, with his family at his side.
Martin was born on August 16, 1948 in New York, New York to the late Martin Francis III and Ann Travers Hayes. Martin attended Xavier High School and is a graduate of Villanova University and Saint John's Law School. He served in the Army and was stationed in Germany.
He was an avid golfer and a member of Winged Foot Golf Club. He loved the game and the camaraderie of his friends and fellow club members. For a number of years, he was also a member of The New York Athletic Club.
He remained close with his three Villanova roommates, enjoying basketball games and other university accomplishments together.
Martin became an enthusiastic diver at the urging of his daughter, Sasha, during family vacations at Caneel Bay on Saint John, US Virgin Islands. The two spent many happy times swimming and diving in the Caribbean.
His favorite pastime of the last few years was time with family, especially his beloved grandson, and with friends.
Martin is survived by his wife Calli; his daughter Sasha, her spouse Bobby and their son D'Angelo; his sister Ann Marie, her husband Rick, and their three sons Christopher, Rick, and Kevin; his sister Kathleen and her husband Brian; his brother John and his children Maggie, Johnny, and Molly; his brother Patrick, his wife Marli, and their daughters Emily and Megan; his sister in law Marianne and her children Owen and Delia. His brother Dennis passed away in 2013.
A Mass of Christian Burial will be held on Tuesday August 17, 2021 at 10:00 a.m. at the Holy Trinity Greek Orthodox Church 10 Mill Road, New Rochelle, NY 10804. A walk through visitation will be held on Monday August 16, 2021 from 3:00-7:00 p.m. at the Hoyt Funeral Home 199 Main Street, New Canaan, CT 06840. Interment will be private.
In lieu of flowers, the family would appreciate contributions to be made to the Multiple Myeloma Research Foundation: https://themmrf.org/get-involved/ways-to-donate/