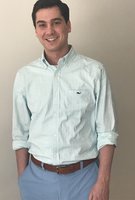 Ryan Frederick Rothfuss
Ryan Frederick Rothfuss 23, of New Canaan, passed away unexpectedly on July 23, 2021. He was born in New York City at Mt. Sinai Hospital on August 15, 1997 to Frederick and Marylou Rothfuss of New Canaan.
Ryan was a beloved son, grandson, brother, nephew, cousin, boyfriend and friend. He was a gifted oil painter from the age of 7. Ryan loved art and American History (especially the American Revolution) and a world history buff. He was so proud of his Italian and German American roots. Ryan was a diehard NY Yankees fan, Star Wars fan and enjoyed classic films. He was a wonderful brother to Hope, John and William.
He attended Rippowam Cisqua School from 2001 – 2012. Then attended the Taft School in Watertown CT graduating in 2016. Ryan graduated with a Bachelor in History from Boston University in May 2020. He was going for his Master's Degree in History at The University College London in January of 2022.
Ryan is survived by his mom and dad and two brothers, John (18), William, (10) and a sister, Hope(21).
Services for Ryan were held privately. A Memorial Service will be held at a later date. Please refer back to the Hoyt Funeral Home website for times and dates.