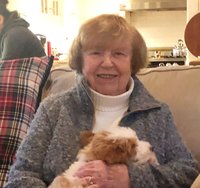 Jacqueline M. Mola
Jacqueline Marina (McCorry) Mola, 86, wife of the late James Mola, passed away on May 1, 2021. Jackie (Aunt Jack to her relatives) was born in Halifax, Nova Scotia on January 29, 1935, daughter of the late John G. and Rhoda Kathleen (Colp) McCorry.
She is survived by brother Jim (Sandi) of Dartmouth NS; nieces Christina McCorry (Jeremey Wilson) of Dartmouth NS, Jane Martin of Bridgewater NS, Susan (Bob) Houlihan of Dartmouth NS; and nephews Michael (Jamie) McCorry of Lawrencetown NS, John Wolfe of Vancouver BC, and Dwight (Loni) Wolfe of Prince George BC. Jackie was predeceased by brother Theodore, sisters Elsie (McCorry) Martin and Dale (McCorry) Wolfe.
Jackie attended school in Liverpool. She graduated from the Maternity Nursing Program (1955) at Grace Hospital of the Salvation Army, Halifax, after which she worked in Bridgewater and Liverpool NS. In 1957 she accepted a position as a private nurse in New Canaan, Connecticut. In 1959, Jackie joined Drs. Brown and Crary as they established the New Canaan Medical Group. She was employed by the practice until her retirement in 2005, but continued to provide assistance in various capacities when needed for many years thereafter.
She was a Patient Support Volunteer through the Visiting Nurses of Wilton and volunteered with local medical clinics sponsored by the Lapham Senior Center. Jackie was also the President of the Village of New Canaan Condo Association.
Jackie was a beloved friend to many. She was a good listener and provider of sage advice; she was always there to help a friend in need. She will be remembered for her love of Nova Scotia, family, friends and all things Scottie. She will be sorely missed.
The family wishes to thank Jackie's many friends in the New Canaan area who have supported her in recent years.
A Memorial Gathering will be held on Saturday, May 15th , from 11:00 am to 1:00 pm, with the Service commencing at 12:00 noon at the Hoyt Funeral Home, 199 Main Street, New Canaan. Internment will take place in Nova Scotia at a later date.
Family flowers only. Donations may be made in her memory to The Salvation Army.