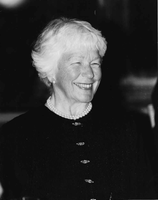 Mary W. Anderson
Mary Wells (Molly) Anderson August 22, 1924 - April 30, 2021

Molly Anderson passed away peacefully on April 30, 2021 at her home at Meadow Ridge, a life care community, in Redding, Connecticut. Molly was 96 years old.

Molly, always ready with a huge smile and a kind word for others, was born in Buffalo, NY, the daughter of Grace and John M. Waters. She
attended Elmwood Franklin School and the Buffalo Seminary, and completed high school at the Westover School in Middlebury, CT. In 1946, after attending Katherine Gibbs, she returned to Buffalo, where she met and married the love of her life, Joseph F. Anderson, in 1948.

Following several years as newlyweds in New York City, Molly and Joe settled in New Canaan, CT in 1951, where they remained for 23 years, raising two children Mary Wells (Missy) and Joseph F. (Rick) Anderson. Together Molly and Joe were deeply involved in the community, helping to found the First Presbyterian Church, and as members of the Winter Club and the Country Club of New Canaan. Molly was also an active participant in the New Canaan Sewing Group and the Garden Club.
In 1974, when Joe became Vice President of Communications and Development at Hamilton College, Molly and Joe moved to Clinton, New York. At Hamilton, thanks to her ingratiating and welcoming manner to alumni far and wide, Molly became known as the "Queen of the Hill." Molly was so beloved and involved that, in 1989, she was honored with the Bell Ringer Award by the Board of Trustees, in recognition of exceptional contributions to the College. In 1992, when Joe retired from Hamilton, the Board of Trustees named the Alumni Center, The Molly and Joe Anderson-Clancy Connell Center, in recognition of the tremendous impact Molly as well as Joe had made over their years at the College.
Following Hamilton, Molly and Joe split their time in Dorset, VT and Camden, SC. When in Dorset, as active members of the Ekwanok Country Club, Molly enjoyed golf and bridge games, attesting to her collegial nature and interest in contributing to the future of the Club. In Camden, Molly and Joe were ardent supporters of many community initiatives, and active members of Springdale Hall, Camden Country Club, and Bethesda Presbyterian Church.

In addition to Missy Fallon and her husband, John "Jay" Fallon (Greenville, NC), Rick Anderson and his wife, Jennifer Anderson (Wilton, CT), Molly is survived by her grandchildren, Bill Pilsbury and his wife, Megan, Mackie Pilsbury Spadaccini and her husband, Mark, Samantha Anderson, Kate Anderson and Hank Anderson, and great grandchildren Andie, Lola, and Georgie Spadaccini.
A private memorial service will be held for immediate family. Memorial contributions may be made in the name of Molly Anderson to
Hamilton College, Office of Advancement, College Hill, Clinton, NY, 13323.