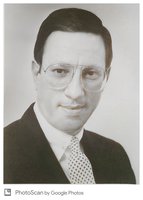 Joseph A. Boccuzzi
Joseph A. Boccuzzi, 75, of New Canaan, CT passed away on April 29, 2021 at Norwalk Hospital with his loving family by his side. Joe was born on October 23, 1945 in Norwalk, CT to the late Gene Boccuzzi and Ida Lapolla.
A lifelong resident of New Canaan, Joe graduated from New Canaan High School in 1963. He went on to graduate from Rider University in 1967, where he met his amazing wife Barbara and wed in 1968. After college he graduated from Officer Candidate School and he admirably served in the Vietnam War. Joe grew his love for music throughout his life and played in several local town bands, agreeing to play local gigs to help pay for his gas money. Joe was a Wall Street tycoon and had a very successful 30-year finance career, culminating as First Vice President of Merrill Lynch in 1997. Joe loved his career and always preached that finding success meant finding something you love to do and finding someone willing to pay you for it.
Joe is survived by his devoted wife Barbara of 52 years, who has been his care-giver ever since Joe suffered a massive stroke in 1997. In addition to his wife, he is survived by his only daughter, Amy Lasky, who also lives in New Canaan, with her husband Michael and children Sophia and MJ, Joe cherished being known as Papa Joe.
The Boccuzzi family will plan a private service for the immediate family at Hoyt Funeral Home, 199 Main St., New Canaan, CT on May 8, 2021. In lieu of flowers, contributions in Joe's memory can be made to the St. Jude's Children's Research Hospital of your choice.