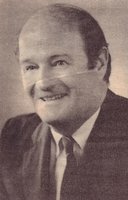 Gerald Kenneth Howard
Gerald K. Howard Sr. of Stamford CT, formerly of New Canaan, CT, Manhasset, NY, and Kinderhook Lake NY.
After a long and courageous battle with cancer, attorney Gerald Howard passed away peacefully on Saturday April 24, 2021 surrounded by his loving family. Gerry is survived by his wife Mary Anne (Hamilton) Howard, a brother Paul and his 4 children and 8 grandchildren, along with many nieces and nephews, sister-in-law and brothers-in-law. His children: Jerry Jr. married to Susan (Carnahan) Howard with grandchildren David, Stephen and William, Jon married to Karin (Paprocki) Howard with grandchild Miles, Michael married to Patricia (Ummel) Howard with grandchildren Susanna, Christopher and Brian and his daughter Megan Howard with grandchild Joshua all mourn this great loss.
To have met Gerry was all that was required to have loved him. His casual demeanor, steady optimism, and quiet, good humor made him the kind of easy-going person that brought a smile to your face whenever you saw him. Gerry was Mary's Irish Quiet Man and he touched and improved the lives of all those he met through his kindness, generosity, patience, understanding and spirituality.
Gerry was born in Red Bank NJ and graduated from St. Bonaventure University where he was a treasured member of both the basketball and football teams, and where he was a member of ROTC; graduating as an Army First Lieutenant. Gerry then attended St. John's School of Law; obtaining his Juris Doctor degree while finishing his Army Active and Reserve duties. He then secured his graduate Law degree from New York University Graduate School of Law. He enjoyed a long and celebrated career in the area of Tax where he was named the youngest Vice President of Sperry Corporation in 1975. Before this position, he had worked with Merck & Co as Corporate Tax Manager, Gould Inc. where, as Corporate Tax Director he reported to the VP and the CFO. After a move to GTE as Tax Counsel, he "retired" in 1998 and lost no time in becoming "Of Counsel" for the then Milbank, Tweed, Hadley and McCloy in NYC until his actual retirement at 76 years of age. He was included in Whose Who in American Colleges and Universities, and Whose Who in Finance and Industry. He was a member of the Tax Council, The Tax Executive Institute, the National Foreign Trade Council and the American Bar Association. He was admitted to the practice of Law in New York, New Jersey, Connecticut and also before the Supreme Court of the United States.
Aside from work and family, his enjoyments were virtually any sport including Major League Baseball (go Yankees!) College Football (Go ND!) swimming, tennis, and his beloved golf, along with following the pursuits of the grandkids in football, B-ball, and soccer.
May he rest in peace with Carol, his former wife, with his parents, and with all of Mary's family who loves, adored and respected him. This is a person who never, ever said one bad word about anyone, a man from whom all could learn something, a man of superlative character who loved without restriction, a man who lived the Gospels to a fault and a man whom God has welcomed into Heaven with the words: Well done, good and faithful servant.
In lieu of flowers, memorial contributions may be made to Tunnels to Towers, Homes for Our Troops, or the Leukemia & Lymphoma Society.
A Funeral Mass will be held at St. Aloysius Roman Catholic Church in New Canaan, on Saturday, June 5 2021 at 1PM.