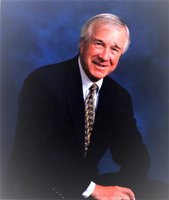 George H. Batterson
George Herbert Batterson Jr., 89, of Roswell, GA passed away on Tuesday April 20, of 2021, at his home. George was born in Norwalk on June 13, 1931 and resided in New Canaan. He was the son of the late George and Edna Dixon Batterson.
Mr. Batterson was an accomplished baseball player in high school, college & during his service with the Army. He enjoyed fishing and loved performing in barbershop quartets. He attended New Canaan High School and was class President; graduating with the class of 1949, aptly named the "49er's". He served our country from 1952 to 1954 with the U.S. Army, which included an assignment with SHAPE (Supreme Headquarters Allied Power Europe) as a cryptographer. He graduated from Wilkes University in 1956 where he also performed in many theatrical productions. George was proud of his distinguished business career with Uarco Business Forms, 1956-1997, where he spent time all over the globe in locations such as Deep River, CT, Chicago, Sydney, San Francisco, Los Angeles, and Toronto. George enjoyed his retirement by spending time at Brookfield Country Club of Roswell, GA, where he was a socially active member playing golf and tennis. George was an avid traveler and made friends with ease wherever he went.
George is preceded in death by his sisters, Barbara (Batterson) Chrostowski, Margaret "Peggy" (Batterson) Poole, his first wife, Laurie (Sorenson) Batterson ('93) and his second wife Carolyn (Dye Tomlin) Batterson ('18).
He is survived by his sister Beverly (Batterson) Clancy and brother Robert Batterson, of Norwalk, CT, son, Blake Batterson (Leslie) of Chicago, IL and daughter, Blair (Batterson) Knowling (Simon) of Toronto, Ontario; step-children Kyle Tomlin (Amy) of Atlanta, Sherry (Tomlin) Robertson (Mark) of Hiawassee, GA. Grandchildren include McKenna Batterson, Hunter Batterson, Kessler Knowling, Brady Knowling, Austin (Sheri-Lyn) Robertson, Lindsay Robertson, Campbell Tomlin, Ava Tomlin, Maiya Tomlin (and their mother Courtney Tomlin of Atlanta, GA). George was beloved to numerous nieces, nephews and great grandchildren.
A visitation will be held on Tuesday April 27, 2021, at Hoyt Funeral home in New Canaan from 8:30AM-10:30AM. A Mass of Christian Burial will begin at 11AM at St. Aloysius Church on Cherry Street in New Canaan. Following the Mass will be a private burial at Lakeview Cemetery in New Canaan. In lieu of flowers, donations may be made to Wilkes University (www.community.wilkes.edu), North Fulton Community Charities (www.nfcchelp.org), Wounded Warrior Project (www.support.woundedwarriorproject.org), or a charity of your choice. A memorial service will be scheduled in Roswell, GA later in the year.
Click the following link to view the live stream of the mass: https://boxcast.tv/view/funeral-mass-for-george-h-batterson-jqbzhwpbfmaauf7yctdj