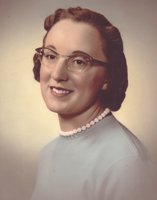 Vivian Lorraine Johnson
Vivian Johnson, 86, of New Canaan, CT passed away peacefully on April 19, 2021. With a fighting spirit she survived COVID-19 in the spring of 2020, but ultimately succumbed to progressive dementia. Vivian, oldest of 5, born in a Minnesota farmhouse, also lived at times in Pennsylvania, Wisconsin, Alabama, Kentucky and Connecticut. Vivian was predeceased by her parents, Harvey and Doris, her brother Harold, and her husband David. She is survived by sisters Lois and Connie, brother Clint, daughter Stephanie and former husband Steve, son Mark and partner Valerie, and beloved grandchildren Julia, Gregory, Nicole and Alex. Vivian was a thoughtful, private woman who loved literature and poetry. Devoted to her family, she bore difficulties uncomplainingly with grace and humility. She graduated from Bethel College in St. Paul, MN, where she met and married her husband David. She later earned a Masters in Counseling from Bridgeport University. Her working career began in 1951, at age 17, as a grade 1-8 teacher in a one room Minnesota school house. Subsequent jobs included teaching high school English and German, working as a teacher and guidance counselor alongside her husband David at the Bangor, PA School at Kirkridge, the Thomas School in Rowayton, CT (where the 1974 senior class dedicated the yearbook to her, saying "she knew us better than anyone"), Katharine Gibbs School in Norwalk, CT, and lastly a 19-year management career with the Presbyterian Church USA, which made her a marketing and management executive, a Manhattan commuter, and ultimately a Louisville, KY, resident, retiring in 1998. A Christian, she was a member of the First Presbyterian Church of Stamford, CT in the 1970s and 1980s. On returning to CT in 2015 she became a member of St. Mark's Episcopal Church in New Canaan.
A wake will be held at Hoyt Funeral Home, 199 Main St., New Canaan on Wednesday, April 28 from 6 to 8 pm, followed at a later date by a memorial service at St. Mark's Episcopal Church.
The family is thankful for the support of the community and in particular for the kind care Vivian received in the last year of her life as a resident of Waveny Care Center. In lieu of flowers, donations may be made to Waveny Care Center, 3 Farm Road, New Canaan, CT 06840.