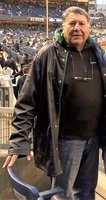 John M. DeLucia
John M. DeLucia, 74, of Ridgefield, CT passed away suddenly at home on March 29, 2021. John was born on March 24, 1947 in Rockville Center, NY to the late Michael and Anna Baselice DeLucia.
The third child, and only son to Michael and Anna, John was a first generation native of Oceanside on Long Island, NY. As a young man, armed with a magnetic personality, he excelled as a student and three-sport athlete at Oceanside High School (class of 1965). There was always a great sense of pride around where John "came from," and he maintained life-long relationships with those from his community on Long Island.
John went on to study business at the University of Connecticut (class of 1969), while continuing to hone his leadership skills on the baseball diamond, and as a member of the ROTC. Forever a "Husky," over the years, John rarely missed a UCONN basketball game on TV. Nor did it take much persuading to "road trip" up to Storrs, for a quick drive through campus, followed by a pie at Frank Peppe's Pizzeria in near-by New Haven, CT.
After serving as First Lieutenant, in the U.S. Army at Fort Benning, and narrowly avoiding deployment to Vietnam, John returned home to the New York area. With great ambition, support and mentorship from many, it was there John began to build a successful career as a restaurant owner and operator. Best known for "Greenstreet's" on Greenwich Avenue, in Greenwich, CT and "The Mug Ale House" in Rye, NY. Adjacent to the Rye train station, "The Mug" was a fixture among locals for years, the backdrop to many of John's greatest stories, and is where he met his then wife, Melinda Barnes DeLucia.
New Canaan, CT was home to John, Melinda and their two sons, Jason and Michael. If you knew John, you could sense the pride and adoration he had for his children. He was a man that shared his knowledge and enthusiasm for his passions, exemplified during his time as a youth baseball coach in their hometown. As the boys grew older, John never missed a game. You could always find him along the fence line, camera around his neck, eagerly documenting the day's events. A time he looked back upon fondly.
A decision routed in his desire to spend more time at home with his sons, John made a radical career change and left the restaurant business. Home to his second career, was William Pitt Insurance, in Stamford, CT. Moreover, this was home to his second family, and he contributed to the team's success until his passing. Thank you all for taking such good care of our Dad all these years.
John is survived by his eldest sister, Priscilla, who resides in Rhode Island. His son, Jason, of Louisville, KY. Along with his son in St. Louis, MO, Michael, and his wife Seana (who John called "Dolly"), and their four children, John (his namesake), Margaret, Charlotte and Francis. John was predeceased by his beloved sister Rosemary.
The family will receive friends for a Memorial Visitation at Hoyt Funeral, 199 Main St., New Canaan, CT on Monday, April 5, 2021 from 4-7pm. A Memorial Service will be held at the First Presbyterian Church of New Canaan, 178 Oenoke Ridge, New Canaan, CT. Interment will immediately follow in the church garden. Contributions can be made in John's memory to New Canaan Baseball, P.O. Box 803, New Canaan, CT 06840.