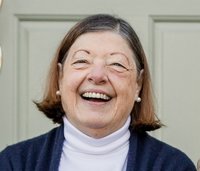 Mary Ann Becraft
Mary Ann Barbera Becraft, 72, of New Canaan, CT passed away on March 19, 2021 at Norwalk Hospital with her loving family by her side.
Mary Ann was born on April 21, 1948 in Haverstraw, NY to the late Carl and Mary Ella Oliphant Barbera. She graduated from Haverstraw High School in 1966 and from Ithaca College in 1969. A week after graduating from college she married her high school sweetheart, Lewis Kevin Becraft. After spending the better part of their 20s and 30s in the Finger Lakes and the Hudson River Valley (both places that were dear to their hearts), in 1985 they moved to New Canaan, CT where they raised their family and built a community that was at the center of their lives.
Mary Ann spent her life as an educator, initially as a high school history teacher, and then as the director of Knox Headquarters State Historic Site in New Windsor, NY, as a long-time nursery school teacher at Toddler Time in New Canaan, as a library assistant at Saxe Middle School, and for almost three decades as a Sunday school teacher at the United Methodist Church of New Canaan. In recent years she would likely be found reading books to her grandchildren, taking them to the New Canaan Library and teaching them how to play cards. She was an avid learner herself, always immersed in a book or deep conversation, and it was one of her greatest joys to share this love of learning with others.
She loved New Canaan and the many organizations that were such a huge part of her life. She enjoyed making her famous chicken soup for Midnight Run with the United Methodist Church, raising money for education with her PEO sisters and hosting her family and friends for picnics at Roton Point in Rowayton.
Her dry whit, straight-shooting style, bright smile and distinctive laugh (really more of a loud jovial chuckle that could be heard across a room and through most walls), will be missed by all who knew and loved her.
Mary Ann is survived by her son, Kevin C. Becraft (Danielle) of Rowayton, daughter Abigail Lane (David) of New Canaan, sister Janet Sullivan Bendell (Don) and brother Robert Barbera, both of Colorado, brother Kenneth Barbera of New York and five grandchildren: Mckenna and William Becraft of Rowayton, and Reeves, Hope and Patrick Lane of New Canaan.
Mary Ann is predeceased by her husband of 30 years, Lewis Kevin Becraft.
A Memorial Service will be held Friday May 21st at the New Canaan Methodist Church. In lieu of flowers contributions in Mary Ann's memory can be made to Midnight Run.