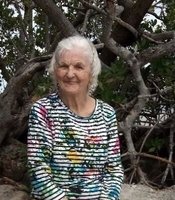 Theresa F. Flynn
Theresa Flynn's 85 years of fiercely independent life came to a sudden end on December 11, 2020 of natural causes at her farm in Ft. Myers.
She was born on March 8, 1935 in O'Callaghan's Mills, Ireland, one of nine children of John J. and Margaret Treacy. She grew up in a renovated Black & Tan barracks and helped out around the family farm. As a teenager she made her way to America and was an educator with the Sisters of Providence in Kentucky. She then moved to New York City and found work as an account representative for New York Telephone. While in New York she met and married a fellow Irish immigrant, John Flynn, settled in Brooklyn and became the mother to three sons. She worked alongside her husband in his market research businesses and in 1966 moved the family to New Canaan, CT. As a suburban mother she transported her sons in her trusty Chevrolet Impala "Annabelle" to their activities and helped them grow into responsible husbands and fathers. She was an inveterate bargain hunter and spent virtually every spare Saturday morning dominating the Fairfield County tag sale circuit. She and her husband travelled widely, including finding themselves in the Soviet Union during the 1986 Chernobyl disaster. After her husband's death in 1996 Terry relocated a few years later to Southwest Florida and stayed active as an equity and real estate investor. She eventually bought a small farm where she enjoyed various animals she took care of. She was a loyal friend to many acquaintances during their challenges and a fount of wisdom and insight to her family back in New England. She was greatly appreciated for her stories of Ireland in her youth, and was a fan of Celtic musicians such as Van Morrison, Phil Coulter and the Clancy Brothers. A true believer in self-reliance she stayed active and independent until the moment she passed. Terry is survived by four siblings, John Treacy, Mary Slattery, Anne Boland and Bridie Hayes, all of Ireland; three sons Vincent (Denise) of Cheshire CT, David (Angela) of Southbury CT; and Edward of Zephyrhills, FL; five grandchildren, William and Christopher Flynn of Vermont and Tessa, Clare and Ryan Flynn of Connecticut; and numerous nephews, nieces and cousins, many of whom stayed very close to her, in particular Kathleen Neenan of Yonkers, NY & Siobhan Victory of Louisville, KY. A strong supporter of the youth activities of the Lee County Sheriff's Office, contributions in lieu of flowers are suggested to charities supportive of special needs youth.
A mass of Christian Burial will be held on Thursday March 25, 2021 at 10:00 AM at Saint Aloysius church in New Canaan.
Link for live stream of service is as follows: https://boxcast.tv/view/memorial-mass-for-theresa-f-flynn-eqflzagwupszjgiquq3e