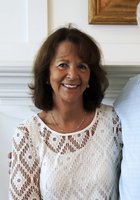 Carol Toner Dolan
Carol Toner Dolan, 74 of New Canaan, CT passed away on March 6, 2021. She was born in Boston, MA on March 30, 1946 to the late James Vincent and Martha Toner, and was the beloved wife to William R. Dolan.
Carol had a wild, rich, and somewhat Rockwellian childhood. From being lovingly tormented by her older sisters to skipping school so that she could secretly attend the civil rights march on Washington, it was the kind that bred depth of character.
When it came time for college, Carol enrolled at Elizabeth Seton in Yonkers, NY to pursue an art major. There, at a mixer with Manhattan College, she met a swashbuckling young man named Bill Dolan, who would somehow convince her to marry him roughly one year later.
Over the years, Carol's creative spirit continued to shine. She designed, crafted and sold children's clothing; launched a catering and party planning business; opened a funky little gift shop with her friend, called Meandher; and ran the knitting division of the New Canaan Sewing Group. Also, she could yodel.
While Carol was a woman of many talents, her true superpower was making people laugh. She was downright hilarious. Her sarcasm and twisted sense of humor kept you on your toes. And at any party or family gathering, she was your go-to. She smiled big, laughed hard, and loved deep.
As a mom, Carol was everything. Her lust for life made growing up an adventure, like when she turned the family basement into a jungle — carpeting it with grass and painting plants and animals on every wall. She gave her kids the freedom to be themselves, yet never at the expense of integrity or personal responsibility. She was supportive, but blunt. Sweet, but sassy. And just fun as hell to be around.
She is survived by a big, adoring family: husband, Bill; siblings, Paula, Jim, Eileen, Mike and Steve; children, Christine, Will, Matt and Steve; and grandchildren, Emma, Katie, Will, George, Emily, Sébastien, and Luke. She was predeceased by her eldest sister, Susan.
The family plans for a memorial service at a future date, with a private interment to be held at Lakeview Cemetery on March 11, 2021. In lieu of flowers, donations may be made to The Fisher Center for Alzheimer's Research Foundation (www.alzinfo.org).