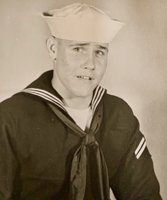 Joseph B. Colbert
Joseph B. Colbert, age 79, a longtime Wilton resident died peacefully March 5, 2021 with his loving family by his side. Born in Pittsburgh, Pennsylvania, he was the son of the late George and Ann Colbert. For over 58 years, Joe was devoted to his wife Angie Colbert who still resides in Wilton.
In addition to Angie, Joe is survived by his son Joseph and his daughter-in-law Christina Colbert of Wilton, Connecticut, grandchildren Alyssa, Christopher and Michael, his sister Carol Ann and her husband John Odrey of Irwin, Pennsylvania, his brother-in-law Joseph and his wife Deborah Calo formerly of Wilton and now residents of Ocean Isle Beach, North Carolina, his niece Jessica, nephew Jeff and his son Matthew and many other family members.
Joe served his country as a Petty Officer Second Class in the United States Navy during the Cuban Missile Crisis. He spent his time in the military wisely taking college courses at the University of Maryland. After he finished his military service, he moved to New York to marry Angie and then after becoming a father, Joe worked at Merrill Lynch and also attended Pace University where he finished his college studies and received his Bachelor of Business Administration degree. Joe was the first person in his family to graduate from college. He continued to work at Merrill Lynch as an Assistant Vice President for over 26 years. After leaving Merrill, Joe became a real estate broker in Wilton and eventually retired and spent his golden years with his family. Joe and Angie were devoted Catholics and members of Our Lady of Fatima Church where they worshipped together for over 35 years.
A Mass of Christian Burial will be held on Thursday March 11, 2021 at Our Lady of Fatima Church, 229 Danbury Road, Wilton at 10:30 AM. For those who cannot attend in person, a live stream of the Mass will be available at https://www.youtube.com/watch?v=lRo27wKqT1A. Entombment will take place at St Charles Cemetery, Farmingdale, L.I., New York following the Mass.
The family will receive friends on Thursday morning at the Hoyt Funeral Home, 199 Main St., New Canaan, CT from 8:00 AM to 10:00 AM.
In lieu of flowers, Joe's request was that donations be made to a charity that he supported most of his life, the Disabled American Veterans (https://www.dav.org).