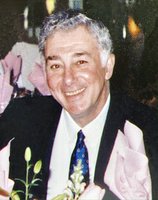 Dr. Lewis J. Annunziato
It is with profound sadness that we announce the passing of Dr. Lewis J. Annunziato. Lew died peacefully on Tuesday, February 16th at Norwalk Hospital, just seven months after his beloved wife of 65 years, Janet, succumbed to Acute Myeloid Leukemia. Doctors believe Lewis died of aspirating Pneumonia, a common complication of Parkinson's Disease, something he had been battling bravely for the last 10 years.
A native to his beloved Town of New Canaan, Lew was born on March 30, 1926 at his home on Locust Avenue. He was the second son of the late Metz and Louise Annunziato. He graduated New Canaan High School in 1943 and immediately joined the US Navy to attend their technical schools. From there, he was dispatched to the Marine Corps as a Marine Combat Medic. He spent 18 months in the Central Pacific where he took part in the Guam and two Iwo Jima campaigns.
Upon his return, he attended the University of Bridgeport followed by graduate work at Temple University in Philadelphia, to study Dentistry. After graduation, he opened his own dental office in New Canaan and practiced there for over 40 years.
In addition to being a lifelong resident, Lewis was passionate about the town he loved and despite being busy building his practice and helping to raise his own family of four children, he would eventually accumulate almost 60 years of service to the Town of New Canaan as an active volunteer in the community and in town government.
In his early years, Lew believed in creating opportunities and places where families in town could grow and play. As a result, he became one of the founding members and Building Chairman of The Lake Club, as well as a member of the original Board of Directors for the YMCA, in its infancy. In addition to being a long-term volunteer Fire Fighter, he continued to serve New Canaan by starting the very first Fire Commission, of which he was Chairman for six years.
In the 1980's he established the first Emergency Medical Commission which included
building and financing its headquarters and Ambulance Corps and was also a member of the Planning and Zoning Commission during the revision of the Town Master Plan.
Of all the many posts he held in his almost 60 decades of Service to the town, far too many to mention all here, none was more beloved than being a member of the Town Council for 22 years. During that time, he took charge of the Safety Committee for 10 years, Vice Chairman for two, and ultimately his proudest achievement of becoming Chairman.
In all Lewis left behind multiple, tangible legacies of his commitment to the betterment of his town of which adored. His family is so proud of him and the life he lived. They are comforted by the fact that he is reunited with the love of his life wife and soul mate, Janet Brown Annunziato.
He is survived by his four children: Mark Annunziato of New Canaan, David Annunziato of Fairfield, John Annunziato of Ridgefield, Amy Sullivan of Norwalk, as well as his seven grandchildren.
His funeral took place shortly after his death with a private service at Hoyts Funeral Home in New Canaan.