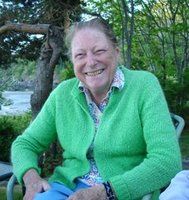 Sabra Toulson Jayne
Sabra Joynes Toulson Jayne of New Canaan, CT died on Feb 13, 2021 at the age of 88. Sabra was born March 21, 1932 to Dr. and Mrs. William Houston Toulson of Baltimore Maryland. She was one of three children, surviving her two siblings Helen and Peter Toulson.
As a child, Sabra attended Calvert School and Roland Park Country School prior to making her debut at the Bachelors Cotillion in Baltimore City. Sabra graduated Cum Laude from Barnard College with a degree in English Literature then worked on Wall Street with R.W. Pressprich and Co.
In 1952 she met her husband-to-be under the Biltmore Clock in NYC. On Oct 13, 1956, she married Kennon Jayne, son of John and Dorothy Jayne of New Canaan, CT. 'Ken and Sabe' lived for many years on Wood's End Road in New Canaan, right next door to Ken's mother where she raised her five sons William, John, Truxtun, Joseph and Houston. She had a wonderful sense of humor and responded to life and her surroundings with a sharp wit.
While raising her children, Sabra was an active community member. She belonged to the New Canaan Sewing Group (40+ years), the New Canaan Garden Club (past president 1987), as well as the Junior League of Stamford-Norwalk and NYC, a Sustainer Emeritus. Sabra also worked at the Whitney Shop in New Canaan for many years. Ken and Sabe were a well-loved couple in New Canaan. They were active members at St. Mark's Episcopal Church and would sit in their pew holding hands during services.
Sabra was a cherished mother and grandmother. She will be terribly missed by her sons, their wives, as well as her six grandchildren, Hannah, Joe, Max, Sam, Madeline and Helen. She was a voracious reader of both fiction and non-fiction, which particularly helped sustain her in the years following Kennon's passing in 2014. She was known for her generous loving spirit, charismatic personality, wisdom, fortitude and of course, her joyful expression 'love-love-love.'
Interment will be held in the family plot in Bath, Maine later this summer. A Memorial Service will be held at St Mark's Church in New Canaan CT when in-person gatherings are allowed. In lieu of flowers, contributions can be made to Staying Put, New Canaan.