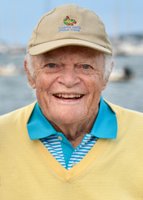 John F. Murray
John Francis Murray, Jr., known as "Jack", age 87, died peacefully at his home with his wife Ceci by his side on February 10, 2021.
Jack was born June 5, 1933 in New York City to the late John Francis Murray and Agnes O'Connell Murray. He grew up in Yonkers, NY at 85 Bronx River Road, fondly known by Jack and his many relatives as "85". Jack was a devoted husband, father and grandfather. He is survived by his wife of 58 years, Cecilia Sullivan Murray, daughter Megan Steele and her husband Jim of New Canaan, son John Francis Murray III of Jackson, WY, daughter Michele Sloan and her husband Rob of New Canaan, and daughter Meredith Landino and her husband Marcus of Jackson, WY. He was the proud grandfather of nine grandchildren: Sarah and Catherine Steele, Jake and Luke Landino, and Meredith, Peter, John Prentice (JP), Emily and the late Robert Sloan, III. He is also survived by his loving sister, Judith Murray Webdale and her husband, Walter of Reston, VA and his nieces and nephews.
Jack graduated from Fordham Prep and Fordham College. During college, with the Korean War underway, Jack enrolled in the United States Air Force R.O.T.C. so he could serve his country as a pilot. Upon graduation from Fordham in June 1954, Jack was commissioned a Second Lieutenant. Prior to his service, the only time Jack had been in an airplane was when he took a ride in a Piper Cub in Westport, CT at the age of fourteen. That experience sparked a lifelong enthusiasm for flying. Jack completed his flight training in Hondo, Texas and was stationed at Dover Air Force Base in DE. He was honorably discharged in 1957. Over the years, he proudly recalled his Air Force adventures to his children, grandchildren and numerous groups of New Canaan elementary and middle school students at Veteran's Day remembrances. In 1957, Jack joined IBM in White Plains, NY where he worked for 35 years in various sales and management positions. There, he established many lifelong friendships including the "Quogue Gong" crew who spent many weekends skiing in Vermont and summering in the Hamptons. Jack and Ceci met at a Giants football game in 1960 and were married in 1963. They lived in Mt. Kisco, NY, and in 1967, were relocated to Shaker Heights, OH. In 1972, they returned East and settled in New Canaan where they have resided ever since.
A lifelong competitor, Jack loved all sports including track, squash, tennis, paddle tennis, golf, sailing, and skiing. He was a member of the Country Club of New Canaan where he was a fixture on the courts and the links and served as captain of inter-club teams for both sports. He loved the outdoors, a passion which he passed on to his children and grandchildren, and he especially enjoyed hiking and camping with his family.
Jack was a member of St. Aloysius Roman Catholic Church. He was most proud of introducing the Emmaus Youth Retreat in 1981. The program is still going strong and has had a positive impact on teens for over 40 years. Jack was a Eucharistic Minister, a Catechist for over 20 years in the Rite of Christian Initiation for Adults (RCIA), a member of the Knights of Columbus, the Knights of Malta and a founding member of the the Saturday Morning Men's Bible Study. Jack was active in Malta Prison Ministry and in 2007 started a program through which he collected thousands of books annually from local libraries and book sales and distributed them to all 18 Connecticut prisons where he also visited with prisoners.
Jack also served the community in a variety of ways over the years. Those around him joked that he was busier in retirement than when he was working full-time. Since 1993, he was a member of the New Canaan Men's Club where he started the "Trail Blazers" hiking club and the "Sky Blazers" flight simulator club. He led the "Christmas Toy Collection for Family Reentry" and organized numerous travel adventures while on the "Couth Committee". In 2004, he was named president and in 2017, Jack was recognized as the New Canaan Men's Club "Distinguished Man of the Year". In 1995, he was a founding member of Lapham Community Computer Center where he recruited an extraordinary team of talented volunteers and taught computer and genealogy classes.
An avid reader, history buff, genealogist, athlete, outdoorsman, world traveler, opera and classical music lover, Jack was truly a "Jack of all trades." Ceci often referred to him as "Mr. Amazing", and always said that he could do anything he set out to do. Jack was a true "Renaissance Man" who loved his family deeply and served his community faithfully. He will be greatly missed by all who knew him.
A mass of Christian burial will be held at St. Aloysius Roman Catholic Church at 11am on Thursday, February 25, 2021. A walk-through visitation will be held at Hoyt Funeral Home in New Canaan from 4pm - 7pm on Wednesday, February 24, 2021. Visitors are asked to wear masks as they walk through, pay their respects and exit without lingering to ensure all guests may attend (www.hoytfuneralhome.com).
To watch the mass live stream please visit,
https://boxcast.tv/view/john-f-murray-memorial-mass-sgqfe59e9wngg0kz63p6
Donations may be made to "Order of Malta, American Association". In the memo please state "Prison Ministries in Memory of Jack Murray".
Order of Malta, American Association
1011 First Avenue - Suite 1350
New York, NY 10022
www.orderofmaltaamerican.org