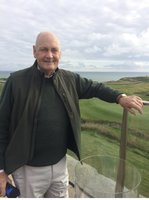 James R. Williams
James R. Williams, 75, of Pound Ridge, New York passed away peacefully in the early morning hours of January 10th, 2021. Jim was born March 10th, 1945 in the Bronx, New York to James R. Williams and Frances McMahon. He was predeceased by his parents and his sisters Helen and Barbara. Jim is survived by his beloved wife Eileen (Bootsie) Scanlon Williams of 37 years in addition to his brothers in law Joseph P. Scanlon Jr., Owen J. McGinity and sisters in law Pat Scanlon and Ann Scanlon McGinity,
Jim graduated from St. Nicholas of Tolentine High School, St. John's University and New York Law School. He spent his early professional career working in New York City as an attorney for D'Amato and Shea and then as a litigator and partner for forty years at the law firm of Jackson Lewis.
Jim will be remembered by his family for his sense of humor, his mentorship of young attorneys, his love of art and his generosity to support initiatives and programs for those in need. He loved spending time with Bootsie in their home in Nantucket and was an avid traveler. He loved reading and collecting British militaria and spent hours painting and honing his artistic skills. He was a warm and welcoming host and friend to everyone he met and will be remembered most by his many nieces and nephews, (Paul, Matt, JP, Gillian, Ali, Lauren, John, Ellen, Ellie, Abby, Beck, Emily, Alex, Jack, Charley, Lee) cousins and friends who often enjoyed his humor and hospitality.
Jim's life will be celebrated at a small private service and burial following a Mass at St. Aloysius Church in New Canaan, Ct. on Friday, January 15, 2015 at 10:30 am. The Mass will be live streamed via the following link:
https://boxcast.tv/view/memorial-mass-for-james-r-williams-fzdymonoqo4d4ulzsvab
In lieu of flowers, memorial donations can be made to either : Guiding Eyes for the Blind 611 Granite Springs Road Yorktown Heights, NY 10598 or St. Joseph's Indian School 1301 North Main Street Chamberlain, South Dakota 57325