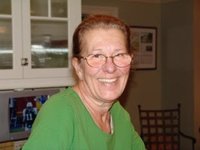 Shirley Annette Morris
Shirley ("Sherry") Annette Morris, age 78, of New Canaan, CT, formerly of Brookville, New York, died peacefully Saturday morning, January 9, 2021 at home surrounded by her loving family.
Born on May 13, 1942 in Lakewood, Florida, she was the daughter of the late Alex Jackson Free and Mary Elizabeth Free. While from humble beginnings, Sherry yearned for something more and upon graduating High School, she ventured north to New York City with nothing more than a bag with her belongings and a desire for a better life.
Upon arriving in the "Big Apple", she was hired as an assistant buyer for an advertising agency and it was there that a co-worker set her up on a blind date with the late William ("Bill") Morris. It was in Bill that Sherry found her soulmate, enjoying over 40 years together all the while living a "better life" that she had always dreamed of, but more importantly, a life filled with love and purpose.
After raising her only child, Theresa, at home for seven years, Sherry eventually became an instrumental part of Bill's successful Westbury, Long Island law firm where she spent 35 years as the office manager.
As an avid golfer and believer in community and charity involvement, for many years she served as a board member for Babes Against Cancer, a Long Island-based charitable organization that raises over a million dollars each year for the American Cancer Society. Tirelessly committed to this group, she organized functions and events and was eventually recognized for her efforts and was named Woman of the Year by Babes Against Cancer.
At her much-loved Wheatley Hills Golf Club, she served as Chair for two years and for several seasons was also the Tournament Chair. A fierce competitor and at one time a nine handicap, she finished as the runner-up Club Champion on multiple occasions. Sherry was also an active member of the Nassau Women's Golf Association where she volunteered her time.
When not playing golf or helping run Bill's law firm, she, along with her soulmate, enjoyed watching their thoroughbred horses race from the owner's box at Belmont and Aqueduct Racetracks. Sherry took great pleasure in naming the foals they bred after family members, her favorite two being "Boss Sam" and "Darlin' Theresa", underscoring her deep commitment and unconditional love of family, especially for her daughter Theresa with whom she had an extraordinary bond.
Audacious travelers, they would often pack their bags last minute and travel across the globe with Theresa in tow. Frequent visitors to Las Vegas, Sherry exuded luck at the dice table where a crowd would sometimes gather in hopes her good fortune and luck would be shared with all.
Later in life Sherry became a competitive Bridge player eventually earning master points. She mentored many other players with her gracious and tactful manner, and it was her love of the game that in part, led the New Canaan Bridge community embracing her as a player, and cherished friend. Although she only lived in New Canaan for five years, she developed wonderful friendships in this, her adopted hometown, with many who recently described her as "a role model", "graceful", and "funny".
Shirley is survived by her daughter, Theresa Bowling, MD (Craig) of New Canaan, Connecticut; her beloved grandchildren Avery and Caden; her sister Angelia Sams Morris of Georgia; brothers Thomas and James Free of Florida; and numerous nieces and nephews. She is preceded in death by her parents and late husband.
Services are private. Interment will be in the family plot at Green Lawn Cemetery in Farmingdale, New York. A Memorial Service will be held in May to celebrate Sherry's life at her home in New Canaan. Details will be announced at a later date.
In lieu of flowers contributions may be made to the American Cancer Society in her memory.
For online condolences and updates visit www.hoytfuneralhome.com