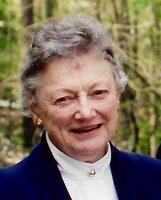 Winifred C. Johnson
Winifred Craig Johnson, 88, of New Canaan, CT passed away peacefully on January 7, 2020 at the Fairfield County House in Stamford, after living in New Canaan for over 60 years. Winifred ("Win") was born in Jersey City, NJ in 1932 to the late Rachel and Thomas Craig.
After spending much of her youth in Kalamazoo, Win graduated from the Agricultural College of the State of Michigan in 1954. The next year in 1955, her alma mater became Michigan State University and Win was an avid Spartan fan thereafter. She loved her Spartans and loved even more when they beat Michigan.
After graduation, Win moved to the east coast with her parents, and worked for NBC for over 30 years in the research department as a statistical analyst.
Win was married for 33 years to Arthur Johnson, who passed on April 13, 2017. She and Arthur ("the Colonel") loved to travel, including spending many winter months in the Virgin Islands and Hawaii and many vacations in Bermuda.
Win is survived by her 4 stepchildren: Ellen Tidd (John); Patricia Teske (Chris); Kathleen Johnson; and Arthur Johnson (Sergia).
Win loved her 6 grandchildren (Betsy Tidd; Andrew Tidd; Katherine Teske; Maggie Teske; Scott Teske; and Artie Johnson) dearly and they loved her.
A private graveside service will be held at Wiltwyck Cemetery in Kingston, NY.
In lieu of flowers, please feel free to donate to Staying Put in New Canaan, P.O. Box 484, New Canaan CT 06840, which gave much loving support to Win over the years.