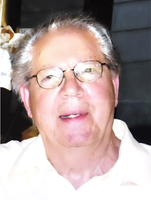 John D. Spiess
John D. Spiess, age 89, formerly of Stamford, CT died peacefully January 7, 2021, in St. Vincent's Hospital, Bridgeport, CT. Born in The Bronx, NY on May 28, 1931, he was the son of the late Alfred and Ida Campo Spiess. John was predeceased by his beloved wife, Marie Pizzigno Spiess.
John was a devoted husband, father, grandfather, and great-grandfather, spending many happy days at the pool with his extended family at their home in Stamford. John served in the Marines during the Korean War and was seriously wounded, receiving a Purple Heart and many other honors. His passions included fine food, golf, and the New York Giants. He is greatly loved and will be greatly missed.
Survivors include a son, John Michael (Celia) Spiess and their children, Brian and Erin, of New Canaan; his daughter, Margaret Rose (Joseph) Tortoriello and their daughter, Tracey (Craig) McCray of Naples, FL. John is also survived by five great-grandsons, C.J , Michael, Joseph, Jack, and Francis McCray. John was predeceased by his brother, Alfred Spiess.
Private Services were held at the Hoyt Funeral Home, New Canaan. Entombment followed in St Mary's Cemetery, Rye Brook, NY.
In lieu of flowers, donations can be made in John's memory to: The Jewish Home 4200 Park Avenue Bridgeport, CT 06604
For online condolences, please visit www.hoytfuneralhome.com.