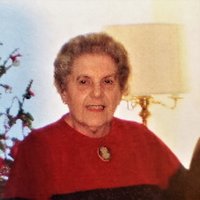 Carmela Totaro
Carmela A. Totaro, age 91, died December 22 peacefully. A native New Canaan resident, Carmela was born January 27, 1929.
She was the daughter of the late Joseph DiPanni and Teresa Lapolla DiPanni. She was predeceased by her husband, Patsy J. Totaro.
Carmela attended Center, Saxe, and graduated from New Canaan High School. Carmela then went to work at Totaro's Fancy Foods Market on Elm Street. She and Patsy were married September of 1951 and raised a son, Gary Totaro of New Canaan and a daughter, Patricia T. Angeletti of Florida.
One of Carmela's favorite activities was bowling. Her creative skills included designing specialty fruit baskets at Totaro's Fancy Foods. After her retirement, she continued the fruit baskets at her brother's Michael and John DiPanni's family Deli and Veggie Barn and also designed the wreaths for the family Christmas tree business.
Carmela is survived by nephews Robert DiPanni, Joseph DiPanni and wife Lynne, David DiPanni and wife Michelle, and grandnephews Sean and Joey, and grandniece Christina, Michael DiPanni Jr. and wife Rosanna and great-nephews Mitchell, Michael III and grand-niece Brianna. She is also survived by Mark Totaro and family of Palmyra, PA, Marlene Funk and family of Doylestown, PA, Maria Comeskey and family of Utica, NY, and Marcia Radman and family of New Canaan, as well as nieces Celeste Buccino of New Canaan and Marguerite Buccino and family of Dallas, TX.
A Mass of Christian Burial will be held at St. Aloysius Church, New Canaan, CT on Tuesday, December 29th at 11:00am. A public walk through visitation will be held on Tuesday, December 29th from 9:30-10:30am at Hoyt Funeral Home, 199 Main St., New Canaan. Visitors are asked to wear masks as they walk through, pay their respects and exit without lingering to ensure all guests can come through the building. Interment will follow at Lakeview Cemetery.
In lieu of flowers, the family would gratefully appreciate donations to St. Aloysius, 40 Maple Street, New Canaan and the Susan G. Komen Cancer Center at Susan G. Komen, 13770 Noel Road, Suite 801889, Dallas, TX 75380
For online condolences and directions please visit www.hoytfuneralhome.com