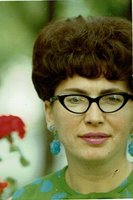 Maria T. Bortz
Maria Bortz, 91, of La Crosse died Friday, December18, 2020 at Waveny Life Care Center, New Canaan, CT. Maria was born on October 11, 1929 in La Crosse to Joseph and Wanda Schoenberger.
Maria is survived by her son Jack (Elizabeth) Bortz of Ridgefield CT as well as her three beloved grandchildren, Dr. Christina Bortz (Mikolasko) of Barrington RI, Matthew (NY, NY), and Gregory (Chicago, IL). Maria is also survived by her great-grandson Lucas (Mikolasko) and her 2 nieces and nephew with whom she was close and much loved. Maria is preceded in death by her parents and her husband, William Bortz. She is also preceded in death by her sister Waltraut (Hurd) and her brother John.
Maria will be remembered for her love for and pride in her family, her loyalty and laughter shared with her many friends (who remained dedicated friends her entire lifetime), and for her warm heart. Maria loved cats, pizza with the works, and a well-made Gimlet with way too many hazelnuts sprinkled on top.
Maria will rest with her parents and husband at Oak Grove Cemetery in La Crosse. Hoyt Funeral Home in New Canaan, CT provided a private visitation for family only due to COVID. A celebration of her life will be held later in 2021 in La Crosse.
In lieu of flowers, donations may be made to: Waveny Life Care Network, 3 Farm Road, New Canaan, CT 06840 / https://www.waveny.org