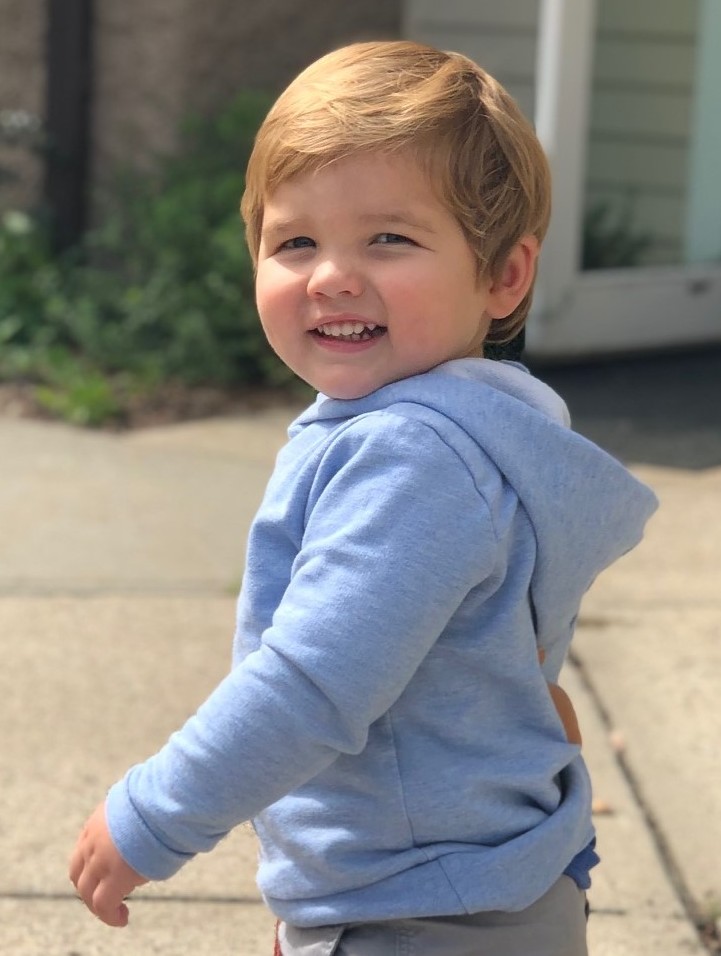 Lucas "Lukey" Richard McGee
Lucas Richard McGee, 23 months, of New Canaan, passed away unexpectedly on December 10, 2019. Born at Stamford Hospital on December 31, 2017, he was the beloved son of Conner and Kate McGee of New Canaan.
Lovingly known as "Lukey," he was cherished by all who knew him. His smiles and hugs brightened everyone's day and his uncontrollable belly laugh when tickled provided hours of fun for everyone around him. He had endless love of the outdoors and took pride in selecting just the right pair of shoes each morning to go outside and check out the "car cars." With gratitude from his parents and caretakers, Lukey contributed beyond his years to the household tidiness, making sure his dishes were always in the sink and his dirty clothes in the laundry room. His Teddy, his Mimi, his friends and teachers at the New Canaan Nature Center Preschool, and bedtime readings of "Hello Doctor" were the anchors of his days. And he loved all things related to food and mealtime, always taking care to use a fork, even if endeavoring to eat Play Doh at school, as reported by a dear friend to the family the day before he passed.
Lukey is survived by his big brother Jamie, and big sisters Alex and Casey; paternal grandparents, Scott and Cathy McGee of Norwich, VT; maternal grandparents Richard and Adele Mattern of Sanibel, FL; his doting uncles and aunts: Chris and Sarah Mattern of New Canaan, CT, Jon Mattern and Katie Parcels of New York, NY, Ross McGee and Alisha Keel of Hartford, VT; cousins and best friends Charlie and Max Mattern of New Canaan, CT; and his playmate and dog, Chester.
The family would also like to extend their gratitude to all the first responders especially Officer Michael O'Sullivan and Lieutenant Jason Ferraro of the New Canaan Police Department and EMT Wendy Hilboldt; the entire emergency room and bereavement staff at Norwalk Hospital; and The Reverends Peter Walsh and Elizabeth Garnsey of St. Mark's Episcopal Church.
A funeral service will be held on Saturday, December 14, 2019 at 11:00 am at the St. Mark's Episcopal Church located at 111 Oenoke Ridge, New Canaan, CT. Childcare for all ages will be provided during the service and a light lunch reception will follow immediately in Morrill Hall next to the chapel.
In lieu of flowers, the family requests donations in Lukey's name to be made to the New Canaan Nature Center https://newcanaannature.org/thank-you/