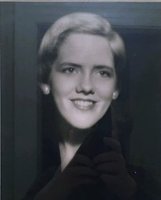 Marie Tjoflat Polk
Marie Tjoflat Polk, a long-time resident of Durham, New Hampshire and more recently of New Canaan, Connecticut died peacefully at home on Sunday, November 24th, 2019 surrounded by her family.
Born on June 1, 1937 in St. Louis, Missouri, Marie was the oldest daughter of the late Dr. Oliver E. and Mrs. Hortense Tjoflat. Marie graduated Phi Beta Kappa from the University of Wisconsin at Madison with a degree in French Language and Literature. She was a member of Kappa Kappa Gamma sorority. After graduation, she spent a year studying in France as a Fulbright scholar.
After being an active community and school volunteer when her children were young, Marie worked for over 20 years at The University of New Hampshire Sea Grant Program as an information specialist and writer/editor. During that time, she served on the Town of Durham, New Hampshire Historic District Commission, reflecting both her desire to participate in the community and her interest in historic preservation. She was also the coach of the Oyster River High School girls' varsity tennis team and led them to two state championship titles.
Marie was exceptionally intelligent, creative and athletic. She was an accomplished pianist, skilled tennis player, gifted artist and fluent speaker of French. She loved language and enjoyed a good debate, pun, or off-color anecdote. In retirement, Marie especially enjoyed her grandchildren and her beloved Tibetan terrier, Dahlia.
Marie was predeceased by her parents, brother Eugene Tjoflat, brother-in-law Jay Forrester and son-in-law John Nichols. She is survived by her siblings Julie (Gil) Alexandre of Darien, Connecticut and Marcella (Dave) Baum of Skokie, Illinois; son Gene (Virginia) of Pensacola, Florida; daughter Susanna of New Canaan, Connecticut; nieces Dagny Forrester and Elizabeth Dillon; nephew Mark Forrester; grandchildren Max and Elena Polk, Olivia Haynes, and Anne Nichols; three great-grand children; and her former husband Keith Polk. Marie is also survived by her extraordinary caregiver of five years and best friend, Christine Forde, for whom the family will be forever grateful.