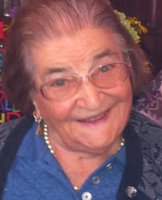 Clementina Vitti
Clementina Vitti, 97, formerly of New Canaan, CT, having resided in Bethel, CT, for the past 25 years, passed away peacefully on November 25, 2019. She was born on May 26, 1922 in Settefrati, Italy to the late Celestino and Antonia DiPreta. Clementina was the beloved wife of the late Innocenzo Vitti.
Clementina immigrated to the United States in 1958 and resided with her husband and two children in New Canaan for 36 years. She worked for the New Canaan school system until she retired in 1982. She was happiest when spending time with her family, especially her grandchildren. She was a passionate cook and brought joy and laughter to everyone's lives she touched. She always put others before herself and LOVED telling secrets.
She was a beloved mother, grandmother, sister, and aunt. She is survived by her daughter Celeste DiCrescenzo of Bethel, CT, her daughter-in-law Penny Vitti of Fishkill, NY, her seven grandchildren and four great grandchildren, her brother Felice DiPreta of Bayside, NY, her sister Maria Zezima of Stamford, CT, and many nieces, nephews, and extended family.
Besides her parents and husband, Clementina is predeceased by her son Luciano Vitti, her grandson Adam Vitti, and her five brothers.
A Mass of Christian Burial will be held on Saturday, November 30, 2019 at 9:30AM at St. Aloysius Church in New Canaan. Visitation will be held Friday from 3:00PM to 8:00PM at Hoyt Funeral Home 199 Main St. New Canaan, CT. Interment at St. Johns Cemetery in Darien, CT.
In lieu of flowers, donations can be made to the American Heart Association in loving memory of Clementina Vitti.