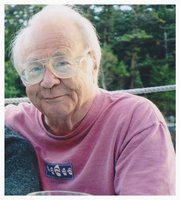 Alvin A. Nilson
Alvin Alan Nilson, a resident of Pound Ridge, NY for nearly fifty years, passed away on November 22, 2019, at the Regional Hospice and Palliative Care Center of Danbury, CT/
He was predeceased by his wife of forty-six years, Gay Nilson. He leaves his son Scott, daughter-in-law Megan, and grandsons Henrik Alan and John Paul.
Al was born in 1930 in Brooklyn, NY, to Karl and Esther Nilson. Upon his completion and receiving his Bachelor's Degree from the University of Bridgeport, Al entered the United States Army and was assigned the Engineer School. After his honorable discharge, he earned a Master's Degree in Business Administration from New York University.
He began his career in advertising with Rolls Royce and then in charge of advertising for the Van Munching Company, who was the sole importer and distributor of Heineken beer. His career with Van Munching lasted many successful years until he retired in 1994.
Having learned to play the piano at age six, Al continued studying and performing for most of his life. As a young man his love for the stage lead him to perform in small clubs and theaters in New York City and later after retirement in Pound Ridge productions.
He might be remembered around town as the man with the wind blowing in his white hair as he sped by on his motorcycle or in his little convertible. He was passionate about researching trucks, old cars, the stock market and everywhere else that his dreams took him. He was a familiar face exercising at the New Canaan YMCA and the New Canaan Library where he researched genealogy and his Norwegian and Swedish ancestors. He will also be remembered as a devoted husband and father. Many Pound Ridge friends enjoyed countless social gatherings that he and Gay hosted at the house they built on family property.
Al's life will be celebrated at a service at The Pound Ridge Community Church on Saturday, November 30, 2019 at 11:00AM. A burial service will follow at The Pound Ridge Cemetery.
In lieu of flowers, donations may be sent to the American Cancer Society. Online condolences and further information can be found at www.hoytfuneralhome.com.