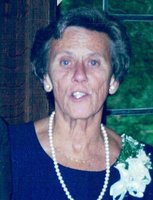 Barbara R. Bouton
Barbara Ready Bouton, 81, a lifelong resident of New Canaan entered into eternal rest on Thursday, November 21st, 2019. She was born March 2, 1938 in New Canaan to the late Eugene Timothy and Marguerite Hoyt Ready. She was married for 46 years to the late Richard H Bouton.
Barbara grew up in New Canaan and graduated from NCHS in 1956. In high school she was on the cheerleading squad and was an all-around star athlete playing volleyball, badminton, archery, field hockey, and most notably, basketball, softball and tennis. She was a member of the 1956 basketball team which racked up a record season (7-1) and was the first NCHS girls' team honored with a sports banquet.
After graduation Barbara worked in the insurance industry for over 32 years. Upon retirement she enjoyed trips to Cape Cod, tending to her garden, volunteering at St. Aloysius Church where she was a lifelong parishioner and also spending time with family and friends.
A member of the Kings Highway Tennis Club, she won the ladies doubles title there five times between 1979 and 1984. She also won the ladies doubles title in the Mead Park Labor Day tournament in 1979, the ladies singles crown in 1984 and was the Class A doubles champion in the Westchester Challenge Tennis League in both 1995 and 1997. Barbara has been honored by the New Canaan High School Sports Council and was also inducted into the New Canaan High School Hall of Fame.
Barbara was extremely civic minded over the years and her passion for tennis benefitted hundreds of others. She was an organizer of SOCK ("Save Our Concrete Kourt") which ran fund drives and bake sales to finance repairs and preservation of an all-weather tennis court at Mead Park. She was also an early advocate of the Family Fourth Celebration at Waveny.
Barbara is survived by her daughter and son in law Wendy and Andrew Cockburn, her brother Eugene Ready and many nieces and nephews. She was always available for sound advice, constructive criticism and a shoulder to lean on with the consensus being that "everyone should have an Aunt Barbara."
The family will receive friends at Hoyt Funeral Home, 199 Main St., New Canaan, CT on Sunday, November 24, 2019 from 4:00-6:00pm. A Mass of Christian Burial to celebrate Barbara's life will be held on Monday, November 25, 2019 at 10:00am at St. Aloysius Church, New Canaan. Interment will follow at Lakeview Cemetery in New Canaan.