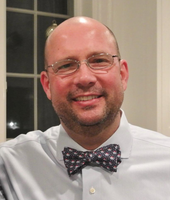 Gerard A. Bergeron
Gerard Arthur Bergeron, age 56, a resident of New Canaan for the last six years, and formerly of Greenwich, CT, died peacefully on Sunday, November 17, 2019 in New York City. Born in Brooklyn, NY July 6, 1963, he was the son of the late Arthur and Barbara Bergeron. Gerard (Gerry) was the beloved husband of Susan Portilla Bergeron and father to Carter Gerard Bergeron of NYC and Evan Renee Bergeron of New Canaan.
Gerry graduated from Manhattan College in 1985 with a B.S. in Accounting, where he was a member of the Men's Hockey and Men's Tennis teams. He was an equities sales trader and worked at several prestigious financial firms during his career. Gerry met the love of his life, Susan, during the summer of 1988 in NYC and welcomed the births of his two children Carter and Evan, who were the most important part of his life. Gerry and Susan would have celebrated their 30th wedding anniversary this March. Gerry valued his family and friends above all and cherished every opportunity to be together. He was an avid hockey player and passed on his love for the game to his children. He was a member of the BHL and the proud winner of the league's trophy in 2008. Gerry was also a life-long New York Mets and Rangers fan and frequently enjoyed attending games with his family. He was a wonderful and giving human being who was always ready to provide help and assistance when it was needed. Gerry had a larger than life personality that lit up any room that he entered and had the ability to make everybody laugh. He will be dearly missed by his family, friends and all that knew him.
In addition to his wife and children, Gerry is survived by his five sisters, Deborah Bergeron of Saratoga Springs, NY, Denise Parmon (David) of Utica, NY, Doreen Bergeron (Michael Bordes) of Whitestone, NY, Dorothea Rubbone (Robert) of Saratoga Springs, NY, Donna Phinney (David) of Saratoga Springs, NY and sister-in-law Lili Weingarten (Michael) of North Potomac, MD, as well as 15 nieces and nephews and 18 great nieces and great nephews.
A Memorial Service will be held on Friday, December 6, 2019 at 11 am at Christ Church, 254 East Putnam Avenue, Greenwich, CT 06830.
In lieu of flowers, contributions in Gerry's memory may be made to the Multiple Myeloma Research Foundation, P.O. Box 414238, Boston, MA 02241-4238, or via email on https://themmrf.org/.