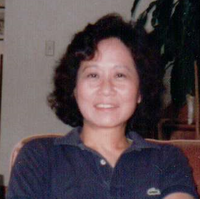 Betty Bik Yin Ng
Betty (Bik Yin) Ng, age 78, a resident of New Canaan, CT for over 40 years passed away on November 17, 2019 at Stamford Hospital with her loving family by her side.
Born in Toyshan, China, on October 3, 1941, she was the daughter of Jarm Chun Yu and Ying Ping Wong.
Betty and her husband were restaurant owners until their retirement and loved to travel. Taking care of people, especially her beloved family was her greatest joy.
Betty is survived by her loving husband, Richard (Kut Tak) Ng, of 55 years and her daughter Connie Ng of Houston and son Douglas Ng of New York City.
She is also survived by her nieces Sandra Spaeth, husband David; Jeanne MacDonald, husband Ronald; Dayna Lee Berner, husband Ted; her grand-nieces; grand-nephews; great grand-nieces and great grand-nephews; her many cousins who were more like siblings than cousins to her and all their families.
Betty is also predeceased by her nephew, Robert Lee.
A Memorial Gathering will be held at Hoyt Funeral Home on Monday November 25, 2019 from 11:00AM to 1:00PM. Interment will follow at Lakeview Cemetery at 1:30PM
For directions and online condolences visit www.hoytfuneralhome.com