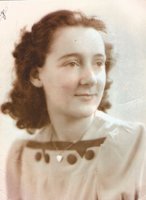 Angelina C. Vitti
Angelina C. Vitti, 94, a lifelong resident of New Canaan, CT, recently residing at Notre Dame Health and Rehabilitation Center, entered eternal rest on Friday, November 15, 2019. Angelina was born on August 28, 1925 in New Canaan, CT to the late Michael A. and Anna DeMichael Carchia.
Angelina grew up in New Canaan and attended New Canaan public schools and graduated New Canaan High School in 1943. She worked at Windt's Pharmacy and First National Supermarket before getting married. Later in life she worked at the Melba Inn and Courtland Gardens. In 1946 she married Michael A. Vitti, also of New Canaan, they started their family of eight children, and she became a homemaker.
Throughout her life, Angelina enjoyed volunteering. She volunteered with the Red Cross and the USO before her marriage. While raising her children she volunteered at their schools as a room mother and was a Cub Scout den mother. Angelina was a lifelong member of St. Aloysius Catholic Church and a member of the Catholic Daughters for many years. She was also a member of the VFW Women's Auxiliary, The New Canaan Senior Center and the Cannon Grange.
Angelina loved music, and as her children grew older, she volunteered her love of music. Playing the piano, accordion and singing at various organizations such as The Senior Center, Star Inc., nursing homes and schools. In addition to her music she was an avid gardener and loved cooking for her family.
Angelina is survived by her eight children, Michael Jr. of Sparta, TN, Anthony (Anne-Marie) of Perry Hall, MD, Robert (Naomi) of Georgetown, TX, Richard (Cyndi) of Darien, CT, John (Beverly) of Storrs, CT, Angela of Norwalk, CT, Michele Blue (Edward) of Norwalk, CT and Cheryl Duncan (Jeffrey) of Monroe, CT. She is also survived by twenty-one grandchildren, twenty great grandchildren and three great-great grandchildren. She was predeceased by her ex-husband and two sisters.
The Vitti family will receive friends at Hoyt Funeral Home, 199 Main St., New Canaan, CT on Thursday, November 21, 2019 from 4:00 – 8:00pm. A Mass to celebrate Angelina's life will be held at St. Aloysius Church, New Canaan on Friday, November 22, 2019 at 10:00am. Interment will follow at Lakeview Cemetery. For online condolences and directions please visit www.hoytfuneralhome.com.