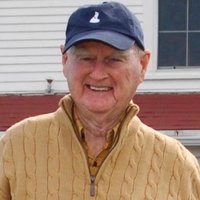 James A. MacKenzie
"None of us are deities," James Alan MacKenzie reminded his loving family who surrounded him when he made the decision himself to live his remaining time on Earth as peacefully as possible.
That he was able to live his entire life at the helm of all decision-making proved a hallmark of his life before he left us to be with the love of his life, Joan - known to those who cherished her as Joansie. Jim, or Poppa as his nineteen grandchildren and six great grandchildren adoringly called him, was a force of both compassion and strong will.
The first baby born in the new hospital in Quincy, Massachusetts on June 4th in 1926, James Alan MacKenzie was the third child of Margaret McHale and James Barton MacKenzie. When Jim was six and his father fell ill, his parents moved him and his brother Jack and sisters Margaret and Audrey to the hamlet of Wadhams in Westport, New York.
Despite the often arduous life of maintaining a dairy farm in the 1930s, Jim regularly recalled an idyllic childhood more or less insulated from the Great Depression, including pies cooling on the sills of opened windows; wearing a Westport Central School jersey in soccer, baseball, and basketball games; a treasured pet lamb that followed him everywhere; a colt that placed first at the Essex County Fair; as well as his precious pet pig named Joe Louis.
Jim's positive disposition and reflections on his youth were not born out of a life devoid of adversity; Jim spent nearly two years essentially in isolation at a Haverstraw Hospital in Albany for an orthopedic ailment during the polio epidemic, resulting in his witnessing new playmates succumb to the disease. Jim was able to face hardship by drawing upon his memory of those he watched suffer worse fates with grace and resilience. It was also here that he first learned to play saxophone - a therapy taught to help children build strength, which he continued through his high school years.
From inside the four walls of Westport's one room schoolhouse, to the storied buildings of New York University, Jim's devotion and commitment to learning only expanded in his adolescent years fueled by his intellectual curiosity. Jim had a calling other than an agricultural one, and confidently left at 18 for Manhattan, where he received his bachelor's degree.
At the Breezy Point Beach Club in Rockaway one evening, Jim met Joan Marie Gorham. For Jim at least, it was love at first sight. He pursued her until she acquiesced and the two fell in love. Inspired by a desire to create a better life for his wife and growing family, he attended St John's University's night classes in order to receive his JD. This - coupled with his extraordinary work ethic - formed the foundation of his admirable career at Continental Can, United Fruit (which became United Brands), and ultimately Schlumberger.
Moving between Brooklyn, Valley Stream, Dedham, Westport, Cohasset, Wilton, New Canaan, and Cotuit, Joan and Jim raised eight children together: Maura, Jim, Bruce, Tod, Scott, Chris, Jon, and Neil, and eventually lovingly called Doug, Paula, Audrey, Sally, Nancy, Elaine, Becky, and Jane their own as their children began families of their own. His children and their children had the comfort of knowing they could always turn to him for sage advice.
Jim loved few things more than spending time with family and researching their lineage - which brought him all over New England and across the Atlantic to Scotland and Ireland - except perhaps a good book. His grandchildren recall on holidays asking the local bookstore for their newest arrivals that were their "biggest, most boring nonfiction" and would often learn upon Jim's opening of the wrapped present that he'd already finished reading it.
Jim was as committed to his family and history as he was service to others - whether that be supporting friends in need or volunteering - particularly as a driver to anyone who needed a lift, Meals on Wheels, Pegasus, and the Red Cross. He was devoted to the Catholic Church until he became too ill.
Jim's face lit up most when around those who called him Poppa, his grandchildren and great grandchildren: Maeve, Andy, Caitlin, Bridget, Adam, Alyssa, Cayla, Tess, Addi, Andrew, Sara, Walker, Connor, Brooklyn, Cara, Ethan, Finn, Jude, Elsie, Emilia, Cora, Alec, Madeline, Rowan, and Marlowe.
Jim's family would love to share the celebration of his life with those who cherished him on Tuesday, November 5th. Calling hours will be held at Hoyt Funeral Home in New Canaan from 9 a.m. - 10 a.m. proceeded directly thereafter by interment at Lakeview Cemetery followed by a memorial service at the Talmadge Hill Community Church. Those who wish to honor Jim by donating in his name may do so toward the Mr. James MacKenzie Activity Fund at the New Canaan Inn. Please contact Director of Development Michelle Ernst (203) 594-5416 for more information.