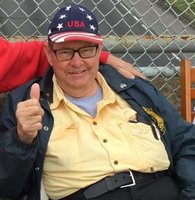 Napoleon "Nappy" Chenard
Napoleon "Nappy" Chenard , 68 a life time resident of Norwalk, CT, passed away peacefully surrounded by his loving family on October 25, 2019 at Norwalk Hospital. He was born on February 17, 1951 in Norwalk to the late Napoleon Sr. and Grace Galyas Chenard. Nappy was the devoted husband of the late Leslie Clark Chenard.
Nappy grew up in Norwalk and was a graduate from Brien McMahon High school. After high school Nappy went on to attend Norwalk Community Technical College. He worked for CR Gibson and company before joining the Norwalk Police Department as a police dispatcher; he worked there for 30 years before retiring. Nappy was a member of the Norwalk CB radio association (NCBRA) and later its president. He enjoyed Stock car racing and attended Danbury Race Arena and other CT stock car racing arenas. He adored his cat Tammy Mae. Nappy was generous and helpful to his family, friends and anyone he encountered and will be missed dearly by everyone who he touched during his life.
Nappy is survived by his beloved cat Tammy Mae, his cousin Roy Hadden wife Lidia of Danbury, CT, his niece Elizabeth Hadden, and his half-sister Dorothy Williamson and her husband Allen of Texas.
A service will be held on Wednesday October 30, 2019 at 7:00 pm at the Raymond Funeral Home in Historic Norwalk, 5 East Wall Street, Norwalk, CT 06851. Nappy's family will be receiving family and friends before the service from 3:00 pm – 7:00 pm. A Committal Service will be held on Thursday October 31, 2019 at 10:30 am at the Riverside Cemetery, 81 Riverside Ave, Norwalk, CT.
In lieu of flowers donations may be made in Nappy's name to the Norwalk Police Department.