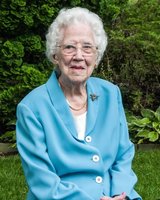 Camille Hyman
Camille F.Hyman, 105, of South Salem, NY passed away peacefully
on October 26, 2019 at Waveny Care Center with her loving family
by her side. Camille was born on August 25, 1914 in New York City
to the late John and Rose Barone Facella.
Camille received a Secretariel degree from Grace Institute. As a
young woman she worked as a secretary to the Vice President of
advertising at Macy's in NYC. Then she was the manager at Briands Salon in Great Neck, NY. In the 1960's she worked for the county of
Westchester at the County Center. The last job she held was with a
refrigeration Company in Pleasantville, NY. She was 73 when she got
the job and left at 80 when the company moved.
Cam had many interests and hobbies like: reading, sewing, gardening,
collecting coins, stamps, antiques and going to tag sales. In her later
years she got most of her enjoyment from being with her friends and loving family.
She was predeceased by her husbands- Charles H. Hoehlein and
Morton Hyman. Camille has one daughter Charlene Batchelor(Kenneth),
three grandchildren, Jackie Kovatch(Joseph), Kenneth Batchelor(Kathleen),
Robin Spillane(John), as well as eleven great grandchildren.
"Nanny" as they called her, loved and looked forward to being with all the
family. Until she was 98 she made Sunday dinner for everyone who was available. She was an excellent cook and was known for making "delicious"
pies for all occasions.
The family will receive friends on Friday, November 1, 2019 from 4-7pm at
Hoyt Funeral Home, 199 Main St., New Canaan, CT. A Mass of Christian
Burial to celebrate Camille's life will be held on Saturday, November 2, 2019
at 9am at St. Aloysius Church, New Canaan, CT. Interment will immediately
follow at the Cemetery of the Holy Rood in Westbury, NY. In lieu of flowers,
contributions in Camille's memory can be made to the Friends of Karen.
For online condolences and directions please visit www.hoytfuneralhome.com