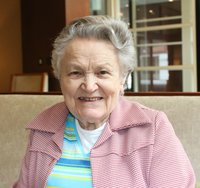 Anna Klettner
Anna Klettner, 94, of South Salem, NY, died peacefully on Wednesday the 23rd of October 2019, at her home. Anna was born in Bakonyjako, a village in Veszprem County, Hungary on July 29, 1925. She was the daughter of farmers, the late Joseph and Anna Brunner Bergmann. She met her husband Anton, also a resident of Bakonyjako, and they married after the end of WWII. They fled Hungary in 1947 after it was overtaken by the Soviet Union. They were deported to Dresden, East Germany and then fled to Salzburg, Austria where they lived for over 3 years. They came to the United States in 1951 through the gracious assistance of Catholic Charities and became U.S. citizens in 1957. They settled in Manhattan, where they lived for 13 years. During that time, in addition to being a homemaker, Anna worked nights for the Nabisco Company for many years, alternating the daily work shift with her husband Anton when he came home from his day job to take care of their children while she would work until midnight. In 1964, they purchased a home in the Bronx. Anna was predeceased by her husband Anton in 1986 and moved to South Salem NY with her family in 2008.
Anna is survived by her son Joseph (wife Janice) of South Salem, and her son Anthony (wife Angela) of Danbury. Anna is also survived by her three grandchildren: Annelise, Anton, and Joseph in order of their births and her mushrooming happiness as her family grew.
Anna loved cooking and baking German and Hungarian cuisine, as well as vegetable gardening at her home. She was also an expert seamstress. She loved German music, singing German folk songs and dancing to polkas and waltzes. She had an incredibly beautiful voice. Anna was a kind and deeply religious person. Above all else, she loved her family and especially loved being Oma to her three grandchildren. She was beloved by others because of her kindness, soft spoken demeanor, and ever-forgiving nature.
She always had a genuine heart-warming smile and manner about her that endeared her to everyone she met. She will be deeply missed by everyone whose life she touched. There was no one like her. There are no words that can completely describe what a wonderful person she was.
A Mass of Christian burial will take place on Monday the 28th of October at St. Mary Church in Ridgefield CT at 10AM followed by burial at St. Raymond's Cemetery in the Bronx. The family will receive friends at the Hoyt Funeral Home, 199 Main Street New Canaan CT, on Sunday the 27th of October from 3 to 7PM.