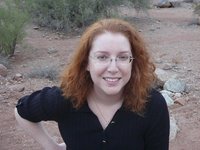 Jessica Clark Rudolph
Jessica Clark Rudolph, age 42, of Stamford, CT passed away September 28, 2019. Born in Wild Rose, Wisconsin, July 9, 1977, she was the daughter of Robert and Janice Clark Rudolph of Ridgefield, CT. In addition to her parents, Jessica is survived by her sister, Kate Rudolph (of California), and her brother, William Rudolph (of Connecticut).
Early on, Jess showed creative promise, and in recent years, was an editor and a prolific author of many children's non-fiction books, including The Flu of 1918 and the award winning Erased by a Tornado. On occasion, Jess used the pen name, J. Clark Sawyer, and several of her titles were translated into Spanish. Jess was a graduate of SUNY-Purchase with a history major, and a minor in art history. She was an avid reader and inquisitive researcher in those topics, especially the Civil War and WWI, and visited battle sights including Gettysburg and Amiens. Jessica loved travel and went with her family on trips to Paris, Germany and Ireland. During college she studied one semester at Nottingham University in England. Having grown up in rural Wisconsin, Jessica spent a lot of time outdoors, particularly with her beloved Golden Retriever trio, Rudy, Marino and Frisky. And she spent many happy summers at her grandparents' home in Pound Ridge.
Jess was very loved and will be missed immensely.
A Memorial visitation will be held at a later date at the Hoyt Funeral Home, 199 Main St., New Canaan, CT.
For online condolences and directions visit www.hoytfuneralhome.com