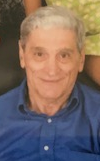 Domenick M. Caruso
Domenick Caruso died at the age of 85 after a long illness on September 6, 2019. He is survived by his two children, Paul and Laura and their spouses and grandchildren, Elizabeth and Jane Dolan, Jasper Caruso and a sister, Lucy. His wife, Isabella, died earlier this year in March. Domenick and Isabella lived in Brooklyn ,NY for most of their lives and moved to New Canaan,CT three years ago to live near their daughter,Laura. and her family. He and his wife were married in 1960 and spent their lives together.He was very much a family man with a great sense of humor, a love of literature and poetry, and was known as a punster to those who knew him. He did a lot of volunteer work and donated blood for many years. Both Domenick and his wife Isabella were English professors and helped to care for feral cats endlessly.
Dom, as he was known among family and friends, used the G.I. Bill to escape poverty after spending three years in the Air Force in Labrador, to pursue his dream of becoming an English professor. He worked at Kingsborough Community College in Brooklyn for many years teaching English, and retired in the late 1990s. He wrote many textbooks, including Writing Research Papers-A Guide to the Process, which had seven editions. He enjoyed painting , reading and church activities in his retirement. Even as he struggled to use language during the progression of his illness, he never stopped quoting authors and great books.
A Funeral Mass will be held in Domenick's honor on Saturday September 28, 2019, at 12:30 pm at St. Aloysius Church 21 Cherry Street, New Canaan, CT.