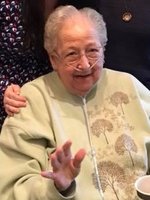 Viola G. Cogswell
Viola (Sis)Cogswell, 81, of South Salem, NY, passed away on August 24, 2019. She was born in White Plains to Viola and Arthur Bates. She was married to Richard (Rit) Cogswell on October 22, 1956. Viola (Sis) was a homemaker, and is survived by her three children,
Richard (Nancy) Cogswell of Cross River, NY; Kenneth (Rachel) Cogswell of Milford, CT; and JoAnn (Robert) Lapolla of South Salem, NY. She is also survived by one brother, Robert (Ilene) Bates of White Plains, NY, and ten grandchildren, John (Priscilla) Alfano, Stephen (Jacki) Alfano, David (Allie) Alfano, Stephanie Cogswell, Steven (Jaclyn) Cogswell, Scott Cogswell, William Cogswell, Audrey Cogswell, Brittany (Taylor) Powell, Anthony Lapolla, and thirteen great-grandchildren, Adriana, Jayden, Matthew, Maddox, Gavin, Taya, Olivia, Wyatt, MacKenzie, Luke, Vivian, Ryan and Owen. She is also survived by many nieces and nephews as well.
Viola (Sis) was predeceased by 13 years to the day, by her husband, Richard, who came from Heaven, gently took her hand, and brought her back with him. She was also predeceased by two sisters and two brothers, Audrey Murphy, Gloria Chaco, Arthur Bates and Jerry Bates.
Viola (Sis) was an avid Bingo player, who enjoyed life, and spending time with her family and friends. She was a member of the Lewisboro Senior Adults, where she enjoyed her Wednesday meetings, and especially loved the friends she made and the trips she took.
A memorial in her honor will be held on Saturday, September 28, 2019 at 11:30 a.m. at Stevens United Methodist Church, 8 Shady Lane, South Salem, NY 10590.