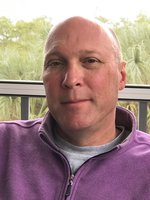 Theodore C. Pulkownik
Theodore Charles Pulkownik of New Canaan, CT and Bonita Springs, FL passed away suddenly after an accidental fall at his home on August 10, 2019. Ted was born on December 20, 1957 in Champaign, Illinois to the late Theodore Chester Pulkownik and Margaret Ann Oberzan Pulkownik, who survives him.
Ted spent most of his early life in Oconomowoc, Wisconsin. He received a BBA in Finance from the University of Wisconsin-Madison in 1980 and went on to receive an MBA from the University of Michigan in 1982. He began his career at Procter & Gamble in Cincinnati, Ohio, where he met and married Kathy Ann Rice on May 16, 1987. They raised their four children in New Canaan, Connecticut. Ted was CEO of SilverMill LLC at the time of his death.
True to his backcountry roots, Ted spent almost every free moment of his life outdoors, bringing his family and his friends along for the many trips. He was an avid fisherman, hunter and skier, but often needed nothing more than an afternoon on the patio with his 'buddies'- most likely regaling them with stories of the one that got away. He will be remembered by everyone who knew him for his love of his family, boundless generosity, exuberance for life and celebration, and his overly-indulgent sushi orders.
Ted is survived by his wife Kathy, his four children, Sean, Alec, Kelsey, and Kylie Richards, his sister Ann Eckert and many loving cousins, nieces and nephews.
The Pulkownik family will receive family and friends at Hoyt Funeral Home, 199 Main St., New Canaan, CT on Saturday, August 17, 2019 between 11:00am and 1:00pm. In lieu of flowers, contributions in Ted's memory can be made to the Wildlife Conservation Society.