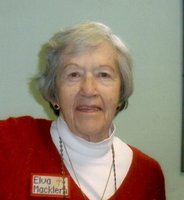 Elva Eleanor Macklem
Elva Eleanor Campbell Macklem, born in 1925 in Little Britain, Ontario, Canada on her paternal grandfather's dairy farm. She loved to ride on the back of their Percheron as he pulled the plow for her Dad in the fields. When the Great Depression hit, they were never without food, welcoming a long daily line of men walking to search for work, whom they would give food and shelter in exchange for farm chores until they could move on. Tragedy struck her young life when she was only 8 and her Mom suddenly died. After that, she went to live with her aunt Elva in Toronto, where she lived until her marriage to F. Sutherland (Suds) Macklem in December 1945 and their subsequent move to America.
As a trained office manager she worked for the Episcopal Bishop of Newark, the Rt. Rev. Benjamin M. Washburn, while her husband, an electrical engineer, worked on top secret weapons projects for the US Gov't. As a couple, they enjoyed going to Manhattan theater and restaurants, seeing big bands, and dancing the night away in Harlem nightclubs.
Suds' work had them move to Valley Stream, L. I., NY, where they became lifelong friends with Herb and Mildred Feinson. Soon they moved to Freeport, where they had three children, Cameron Keating (Linda Joy Eleanor), Douglas Sutherland, and Sandra Lorraine, and Jones Beach become a consistent feature in their lives. They next moved to New Canaan in 1959, where Elva became the office manager for United Tool Processes, a manufacturer for race car performance mod. Even after her retirement from UTP, she still kept her hand in, working for an investment firm on an hourly basis.
She was a devoted member of St. Paul's Church in Darien, CT, serving on the altar guild for decades, singing in the church choir, attending copious Bible studies, volunteering in the church bookstore, answering the church switchboard weekly, and serving on the vestry. She was known for her deep faith in the Lord Jesus the Messiah, and prayed at home for people daily and on prayer teams at the church weekly. With her fellow St. Paul's parishioners she began travelling to Israel, which she visited three times, and also went with them to Jordan, Egypt, and Turkey. She loved to travel and she took her young family on many trips 'home' to Lindsay, Ontario on an almost yearly basis, visiting her eldest brother Ross Campbell and his wife Mavis with their four children. Many a night the families would visit historic sites, go water skiing on the lake, and play crokinole in the evenings. Later on in life, she went on a trip to England and Scotland with her daughter Sandy and granddaughter Sarah.
Elva was known also for her sense of humor, the playfulness she showed towards her kids and grandkids, her readiness to help in times of need, and her generous spirit to all. Everyone was welcome at 468 Main, and everyone would be filled with homey American fare. At Christmas especially, she made sure that those who had no place to go would be invited to her feast. New Year's too she would have an open house with tons of great food and an open door policy of "come when you can and enjoy yourself," because giving was part of her very nature. She was a trusted and loving friend, especially to her neighbor, Janet Christie, and to church buddies Alta Jeliffe and Ruth Scribner, as well as many, many others.
She was predeceased by her husband F. Sutherland Macklem, her daughter Cameron, her son-in-law Peter Monahan, and her three brothers Ross, Milton, and Earl. She is survived by her son Doug + his wife Lucille, her grandson Michael their son, her daughter Sandra (Peter) and her daughter Sarah, Elva's granddaughter, and Sarah's child Angie.