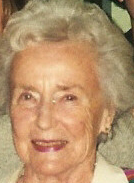 Evelyn S. Griffin
Evelyn Savage Griffin, affectionately known as Bee, passed away peacefully on July 17, 2019 at the age of 101, surrounded by her family. The daughter of Jessie Henderson Rivers and Marion Alexander Savage, Bee was born on December 30, 1917 in Atlanta, GA, spending her formative years in Scotia, NY.
A graduate of Mt Holyoke College, Bee attended the Case Western Reserve Graduate School of Social Work. In 1941, she married George Wortham Griffin, Jr. in Schenectady, NY. Bee and George moved to New Canaan in 1954, where she became an active member of her community. She volunteered at the American Red Cross Service to Military Families program, Hall-Brooke Hospital, and the Congregational Church of New Canaan and, with George, volunteered at Waveny Care Center. An avid tennis and bridge player, Bee also enjoyed participating in the educational programs offered at the New Canaan Library and Lapham Community Center. She was a former member of the Junior League of Stamford-Norwalk and the Country Club of New Canaan.
Bee and George had a wide circle of friends and delighted in entertaining them in their home. They loved to travel and were fortunate enough to do so extensively, visiting the Orient, Europe, and Middle East. Above all, they cherished time with their family.
Bee leaves three daughters, Patricia Stewart, Gail Kincaide, (William) of McLean, VA and Suzanne Hale (William) of New Canaan; six grandchildren, Alexander Stewart (Suzanne) and Douglas Stewart (Julia) of New Canaan, Patrick Stewart (Natika) of Baltimore, Todd Kincaide (Adrienne) of Napa, CA, Caroline Hale Gibson (James) of Stamford, Stephanie Hale Akers (Dillan) of London, and 10 great grandchildren. She was predeceased by her beloved husband of 58 years in 1999.
A small private celebration of Bee's life will take place in September.