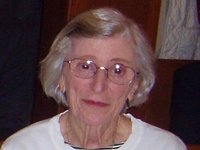 Gloria Wiedemann
WIEDEMANN, Gloria Rose Giorno passed away peacefully at Waveny Care Center in New Canaan, CT on Friday, January 25, 2019 at the age of 96 in the comfort of her loving family having lived a long, full, and good life.
Gloria was born and raised in Brooklyn, NY. She was the daughter of Estelle Kinney and Robert Giorno. In 1945, Gloria met the love of her life, August Wiedemann, whom she married in 1946.
Gloria and August made their family home in New Canaan, CT where they raised their four daughters. Gloria was pre-deceased by her husband in 1965, and later, she resided in Scottsdale and Peoria, AZ, before returning to New Canaan in 2012 to be with her family.
Gloria is survived by her four children and their families, Georgia Wiedemann, Lorraine Wiedemann Edwards (Ross Edwards), Leslie Piernik (Robert Piernik), Jane Wiedemann Consolini (Gildo Consolini), four grandchildren; Bree Edwards (Johnny DeKam), August Piernik (Heather Cribbis Piernik), Michaela Consolini and Jack Consolini, and three great grandchildren; Zoe DeKam, Delilah Piernik and Wesley Piernik.
A mass of Christian Burial will be celebrated at St. Aloysius Roman Catholic Church in New Canaan, CT at 10:00 AM, Saturday, February 2, 2019, followed by burial at Lakeview Cemetery