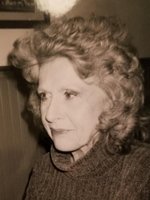 Mary E. Clark
Mary Elizabeth (Sawyer) Clark passed away peacefully at her home in Pound Ridge on December 16, at the age of 95.
Mary was born in Stamford, CT and grew up on her parents' (Wesley and Sophie Sawyer) poultry farm on Rock Rimmon Road. She lived in Pound Ridge since 1952.
Mary is survived by four of her children: Janice (Robert) Rudolph, Ridgefield; Marilyn (Douglas) Hall, Vista; Arthur Clark, Pound Ridge; and Terry (Robert) Wakeman, Danbury; and survived by her ten grandchildren: William Rudolph, Kathleen Rudolph, Jessica Rudolph, Eric Sporborg, Matthew Hall, Evan Hall, Jeanne McCormack, Al Clark, Ali Wakeman, and Molly Wakeman; and her three great grandchildren: Aurora Hall, Belle Hall, and Patrick McCormack.
Mary was predeceased by her two husbands, William Henry Clark in 1949, and Arthur Alwin Clark in 1987, and by her daughter, Barbara Ann Clark in 2009. Her two brothers, Crosby and Wesley, also predeceased her.
Funeral services will be held on Friday, December 21, 2018, at 11 am at Hoyt Funeral Home and Cremation Service, 199 Main Street, New Canaan, CT 06840. Interment will follow at the Pound Ridge Cemetery in Pound Ridge, NY. Family will receive friends from 9:30 am until time of service.