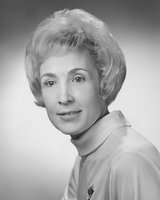 Gisele D. Erhardt
Gisele D. Erhardt, age 93, died peacefully, December 13, 2018 in Greenwich Hospital. Gisele was a resident of New Canaan for many years. Born in Wolfhagen-Kassel, Germany January 30, 1925, she was the daughter of veterinarian Heinrich and his wife Emma Hotze Erhardt and the second youngest of their nine children.
She trained as a nurse and initially practiced that profession in Germany, Sweden, Canada and the United States and later worked and traveled widely for American oil exploration and architectural firms before retiring at age 80.
She is survived by a host of friends, cousins and nieces and nephews
Services and Interment will be announced at a later date.