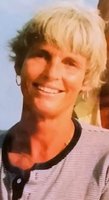 Judith McLane
Judith A. McLane, 82, a resident of New Canaan for over 50 years, died peacefully on Friday, November 16, 2018 in her home with her husband by her side after a courageous five-year battle with breast cancer.
Born in New York City on June 29, 1936. She was the daughter of the late Donald B. and Margaret W. Wildes Anthony of Locust Valley, NY. She was the wife of Thomas L. McLane for 62 years.
In addition to her husband Tom, Judy is survived by her eldest son, Bradford L. McLane and wife Dede of Winnetka, IL, and two daughters: Elizabeth Stocker-McLane of Zurich, Switzerland and Jennifer McLane-Hinchliffe of Pegram, TN.
She is also survived by her seven grandchildren: Christopher Stocker; Emily, Connor and Elizabeth McLane; Haley McLane; and Lane and Maddy Hinchliffe. She was pre-deceased by her son Thomas "Tim" McLane and her brother Gerard M. Anthony.
Judy attended Bennett Junior College in Millbrook, NY. She was a long-time administrator at the New Canaan High School, an avid gardener and former member of the Garden Club of America, a competitive tennis player at the Country Club of New Canaan, and a keen animal lover. She spent many summers cruising with Tom from the Norwalk Yacht Club to various ports in Buzzards Bay and Maine on their various sailboats and spent many winters on New England ski trips with families and friends. She is remembered by many as the vibrant, joyful, enthusiastic, loving, perennially young college girl she always was. Some even called her "the beacon of life." She served as the cornerstone of her extended family.
After a private interment, there will be a memorial service on Saturday, December 1, 2018 at 11:00am at St. Mark's Episcopal Church, 111 Oenoke Ridge, New Canaan, CT with a reception immediately following in Morrill Hall.
In lieu of flowers, contributions can be made to "Staying Put in New Canaan" (stayingputnc.org).
For online condolences and directions please visit www.hoytfuneralhome.com